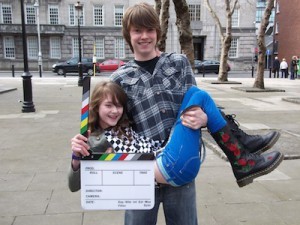 AN award-winning kids film school has announced its coming to Donegal this summer,
The North West Film School will hold four courses in the county, it announced today.
The 'Zoom' course for children aged 10-12 is a two-week camp in which participants will work on two short films – one animated and one live action.
Children will take part in fun activities which use arts, crafts and drama to teach and explain about film production. Students will work together to create films based on their own ideas which are written, developed, filmed and produced by themselves with the guidance of expert filmmakers and tutors.
The 'Focus' course for young people aged 13-18 runs for two weeks and concentrates on the production of a group film. Industry standard equipment is provided and participants are trained in basic operation of cameras, sound and lighting equipment.
They learn about writing and developing ideas; scripts and storyboards; preparing to shoot their films; location scouting; set safety; directing; makeup, wardrobe and set design; soundtrack composition; casting and acting in their films.
Both courses are being run in Donegal Town and Letterkenny this summer, giving young people throughout the county the opportunity to join the leading youth film organisation in the country.
Students of North West Film School have, for the past two consecutive years, won the title of 'Best Group Film' at Ireland's prestigious Fresh Film Festival.
In addition to this, past films made on summer courses have gone on to win first place in the Berlin International Youth Film Festival as well as a collection of awards and official selections throughout the world.
Young people from Sligo and Leitrim who have taken part in past courses have recently had their short films selected for the Seoul International Youth Film Festival which takes place in South Korea in July. This is the biggest event of its kind in the world and the second year for North West Film School to represent Ireland in Korea.
Courses in Donegal this summer will take place in Donegal Town from July 11th-22nd and in Letterkenny from July 25th-August 5th. Past films can be seen on www.northwestfilmschool.ie, where you can also find additional information about summer courses. Alternatively, call 071 9650837.