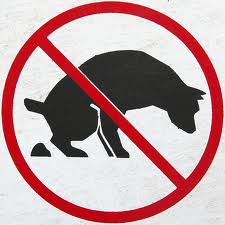 Letterkenny Town Council has promised to get tough on dog-owners who allow their pedigree pooches to poo in public.
The council has erected a number of 'No Dog Fouling' signs around the town and has promised to fine people who do not obey the laws.
Cllr Gerry McMonagle said he wants to see such signs in green areas across the town as the incidence of dog fouling is rampant.
"We literally have to clean up our acts. People love their dogs and I have no problem with people out walking in public spaces with their dogs.
"But they have to be responsible when it comes to cleaning up after themselves. Dog dirt carries all sorts of disease and it is just not safe to leave it around with children playing in these green areas," he said.
A spokesman for Letterkenny Council said signs have been erected in Ballymacool Park and that it only the first of many to come.
"The Council will look to erect further signs in other public areas to inform of the statutory obligations for anyone found or reported for dog fouling in public areas.
"Fines for this offence are covered under the Litter Pollution Act 1997 with an on the spot fine of €150 and a maximum fine on summary conviction of €3000," he warned.
Ends
Tags: