Donegal Deputy Padraig MacLochlainn has reacted furiously to claims by Junior Health Minister Roisin Shorthall that it will take up to a year to open the new A&E Department at Letterkenny General Hospital.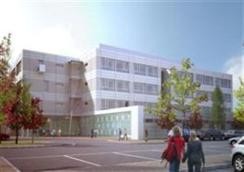 The Sinn Fein TD raised the matter in the Dail last night and was told by Minister Shorthall that the Government could not intervene.
However she did reveal that a recent meeting with liquidators could see an end to the debacle but admitted that it will still take at least 20 weeks until the unit is opened.
The new unit has been delayed by a year due to NAMA's collapse of the building contractors, McNamara Construction.
A number of sub contractors are still owed large amounts of money due tot he sudden stoppage of the construction.
Deputy MacLochlainn said the people of Donegal deserve much better and accused the new Government of breaking their promises.
"The people of Donegal deserve better. There has been a deafening silence from the Government on this scandal and not much better from the Government Deputy, Senator, and Minister in Donegal.
"The fact is that an arm of state, NAMA forced McNamara construction into receivership and in doing so caused Donegal sub- contractors to be each left without tens of thousands of euro owed and the people of Donegal and staff at Letterkenny Hospital without the badly needed new facilities.
"It is not good enough for a Minister to hide behind lawyers and bondsmen. Where is the new leadership we were promised by this Government?" he said.
He added that he will continue to press the Government to push to have the unit opened as son as possible.
"The new extension should have been up and running by now. The failure of this 100 day old Government means that morale amongst front line staff at the hospital has been sapped.
"There are serious challenges ahead for Letterkenny General Hospital, including more savage cuts, a shortage of junior doctors, possible closure of wards, and the ongoing delay in many surgical procedures.
"Both I and my colleague, Deputy Pearse Doherty are determined to hold this Government to account in the Dáil and ensure that they honour their pre- election promises to the people of Donegal and the people of Ireland"
ENDS
Tags: