There has been a huge welcome for long-awaited return of the Lough Swilly Ferry.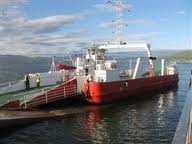 The service, which links Buncrana with Rathmullan, will take place for the rest of the summer months.
The ferry was due to be up and running a number of weeks ago but there had been difficulties leading to the delay.
A number of tourism operators had expressed their concerns after having the ferry as part of their schedules while showing Donegal to tourist groups.
The Mayor of Buncrana, Cllr Nicholas Crossan, said a repeat of the this year's delay should not happen again.
He says the discussions should be starting now, based on usage of the service over the summer.
He also says a framework should be agreed before the budget meetings at the end of the year so that everyone knows where they stand before the 2012 season.
Cllr Crossan says this would also allow the service be promoted in brochures and websites while people are planning their holidays.
Ends
Tags: