One of Donegal's most famous hotels may be on the verge of re-opening after being closed for almost two years.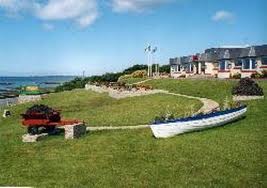 The 48 bedroom Ostan na Rosann hotel, Dungloe's only hotel, has remained closed since it went into liquidation.
The hotel, which has a swimming pool, bar and function room, was once the jewel in the crown of the west Donegal town.
However the venue has remained bolted shut despite several rumoured attempts of a purchaser.
In May last year a local businessman living in the UK was supposed to have purchased the hotel for just under €1million.
The previous February, CB Richard Ellis confirmed their instructions to offer the 48 bedroom hotel for sale by private treaty with a guide price in excess of €1million. The hotel is being sold on the instructions of Mr J. Stafford, Liquidator, MMB Hotels Ltd.
However that deal fell through at the last minute.
However Donegaldaily now understands that a significant amount of work has been carried out on the hotel and it may be about to open again.
It is believed the premises has been leased from the liquidator and could be about to reopen again.
The relaunch of the famous hotel would also create a number of jobs locally.
The hotel not only catered for functions, dances and other events but was also traditionally the main centre for the annual Mary from Dungloe Festival.
One local Dungloe resident told us "It will be great news if the Ostan opens again. It's a disgrace that a town the size of Dungloe does not have its own hotel.
"How can you expect visitors to come and stay in Dungloe if there is no hotel for them to stay in?" he asked.
Ends
Tags: