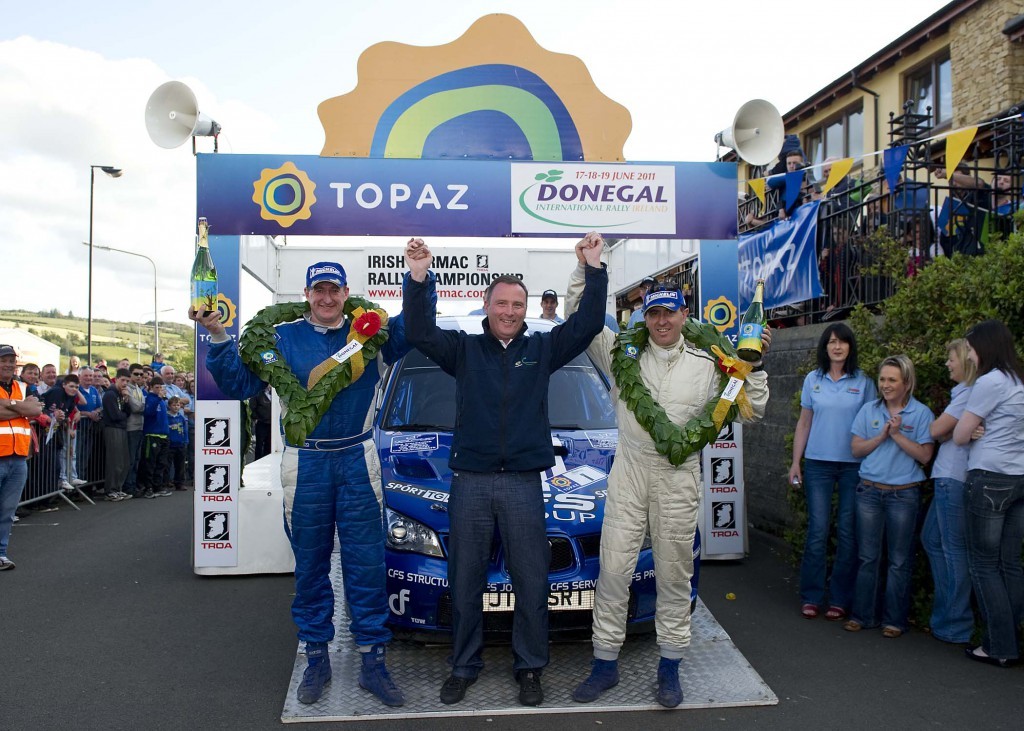 Tim McNulty has held his nerve to win the Donegal International Rally.
Huge crowds met the Meath man as he arrived back at the Mount Errigal Hotel in Letterkenny this evening.
McNulty kept his cool over the day's final eight stages in Inishowen to finish one minute and nineteen seconds ahead of Alastair Fisher and his Letterkenny co-driver Rory Kennedy in second place.
The event, which saw a crowd of more than 50,000 attend the three days, has been hailed as a huge success with no accidents.
A Garda spokesman said the vast majority of rally followers were impeccably behaved.
"The message of keeping the race on the road really got home. We had very few incidents of a serious nature.
"The organisers did a terrific job and the crowd really behaved themselves. It was a really good event form our point of view," he said.
Eventual winner McNulty and co-driver Paul Kiely lead the event from the fourth stage on day one and increased their lead yesterday before driving a steady race today to ensure the title.
The wet conditions earlier on today did not prove a problem for McNulty and the victory never looked in doubt.
He stayed over a minute clear of Fisher's Fiesta throughout the day and going into the final two stages, set in Buncrana Town, McNulty was leading by 1 minute and 16 seconds.
McNulty held his nerve on the final two short town stages to win his second event in this year's Irish Tarmac Rally Championship following his victory in Galway earlier this year.
Fisher and Kennedy held off the challenge of Daragh O'Riordan for second, with O'Riordan fastest on half of today's stages. Kevin Barrett finished in fourth with Garry Jennings taking fifth place.
PICTURE BY CLIVE WASSON PHOTOGRAPHY
Ends
Tags: