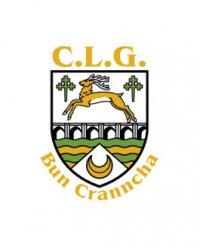 The club would like to wish Ryan Bradley and the Donegal squad good luck in this Sunday's senior football championship semi-final against Tyrone in Clones.  This is not an all ticket fixture, only the Gerry Arthur stand (covered and uncovered) are pre-sold tickets.  Group tickets are availabe for the entire ground.  Group tickets and Gerry Arthur stand tickets must be ordered by Monday 20th June, lunchtime.
Senior Executive Board Meeting
At the Scarvey on Monday 20th June at 8pm.
The senior footballers lost  by two pints to Naomh Bríd last Saturday night, 1-8 to 0-9, at the Scarvey.
Improve your spoken and written Irish in active fun classes one evening per week during the summer €10 per class (€8 for a club member) at the Scarvey GAA clubhouse.  Contact:  Maria – 086 161 9171.  The classes are aimed at over ten year olds, Maria is  willing to cater for different ages in different classes.  The lessons objectives is to improve students spoken and written Irish in an active and fun way through activities as well as written exercises.  The times of the classes have to be confirmed yet but are dependant on when the clubhouse is free.   Classes will last just over an hour continuing  for the duration of the summer depending on demand.  Please contact Maria on the above number to register your interest and to get further information.
Under 14 Hurling
Ballybofey was the place to be on Thursday night last, where an exhibition of underage hurling took place when Buncrana u14 hurlers played Ballyshannon in the championship final.  Played in far from ideal conditions, it was a nervy start for the boys and they only went in 1:5 to 1:1 in front at halftime.  The management team changed formation at half-time.  From the throw in for the second half it was a
different story, our lads were on fire and easily went into a commanding lead within 5 minutes of the restart, with impressible scores coming from all angles.  In defence Paddy Wilson was solid, Captain Sam Doherty(roe) gave a second half performance way beyond his years.  Upfront the deadly duo of half forwards Dylan Duffy and Oisin Grant were on fire.  Converted back, Aidan Stokes excelled in his roll closer to the square.  All the squad can be justly proud of their achievement this year and deservedly claimed the title on a score line of 6:17 to 3:2.
The Buncrana u14 Hurlers set sail for Galway to take part in the All-Ireland Feile na nGael finals on Friday 24th of June, where they will represent their club and county in this prestigious competition, that was first established in 1971 and has grown ever since.  Feile brings together over 25,000 Boys and Girls from all over Ireland and abroad.  The Scarvey boys will be hosted by Galway club Ballygar as is the tradition of the Feile, they will play the host club on Friday afternoon, followed by a colourful parade in Loughrea in the evening, they will return to Ballygar and all players and management will stay with host family's.  On Saturday they will play a further two matches against Ashcaragh/Fohernagh(Galway) and Four Roads(Roscommon).  All three results will determine if the boys progress or not.  If they progress they will play semi finals and finals on Saturday afternoon and evening.  The host club will provide entertainment for all players and supporters at night.  Finals are due to take place on Sunday afternoon.  The boys achievement has not come about by chance, management duo of Tom Clare(snr) and Gerry Vaughan have put this squad through their paces since the end of January, early season defeats in friendlies didn't deter this squad it just made them more resolved to achieve.  To date this year they already claimed Donegal Feile, Donegal League and Championship double and Ulster Feile titles.  With all 24 of the panel playing their part in what has been the most successful season by a hurling side in the club to date.  Their wins have come about in impressive fashion.
The club and team management would like to take this opportunity to thank all the local business's for their financial support that helped make the trip possible, to all the Parents who sold tickets and collected, to the boys themselves who raised money through a sponsored walk to Father Hegarty's rock and to the wider community who supported them in what ever way.  Go raibh míle maith agaibh.  Best of luck to all involved.
Under 12 Football
The u12 footballers travelled to Urris on Tuesday night and were missing some regulars but both teams produced some of their best
foolball to date, the skill levels of all 4 teams was great to see.
Under 12 Girl's Football
The u12 girl's football tarvelled to Carndonagh on Saturday for a well attended and organised blitz, these girls continue to improve much to the satisfaction of their hard working management team, thanks to the Carn club for hosting.
Under 12 Hurling
Our u12 hurlers had a hectic weekend with a Derry blitz and a Donegal blitz on Saturday and Sunday.  On Saturday they played Carrickmore(Tyrone), Ballinascreen(Derry) and Swatragh(Derry) and recorded three impressive comfortable wins, to maintain their unbeaten run in Derry.  This squad is back-boned by players from the u14 set up and these lads are well supported by the younger members of the squad and all impressed during the blitz.  Sunday afternoon they travelled to Letterkenny and played in what was one of the best run blitz in recent times seven teams were present, and once again the skill level was great to watch winning all four matches against Eunan's, MacCumhaills, Gaels and old foe's Ballyshannon.  A big thank you to the St Eunans club who run the event and for the welcome refreshments afterwards.
Under 16 Hurling
U16 Hurlers played in an Ulster 9 aside competition on Saturday in Belfast Rossa Park.  They lost the first game by 2 points to Killeavey, beat Strabane in second game, lost to Portaferry in third game.  A good performance by all the players.  It's back to training on Wednesday night for League Game in two weeks time.
Under 14 Football
Our under 14 footballers began their Northern Board campaign with a narrow defeat to Red Hughs Sunday week passed. We were short a few key players with holidays and some were away at the Donegal game on the Sunday night but the players that travelled conducted themselves very well. Behind at half time by seven points, they played like warriors in the second half but ran out of time in the end. Red Hugh's now have great new facilities and our players welcomed the tea and sandwiches after the match and it was a great way for both young teams to mix.
On Sunday last the under 14 footballer's took on Urris.  We started the stronger of the two sides, scoring three goals in the first ten minutes, two from Owen McColgan and one from Tom Clare.  Conor O' Donnell gave master performance of fielding and we played beautiful fast football all over the pitch.  Paul Nelson and Christopher Mc Kinney were on top in the middle and Aedan Stokes and Darren Doherty were generals in defence.  We missed a penalty but still lead at half time four goals and three points to three points.  The conditions were perfect but Urris were like a different team in the second half, they came like animals getting three goals in quick concession, and even though our defence battled hard with two goal line clearances from Ryan Mc Elhinney and Ryan Duffy, one on one stops by Ryan Mc Laughlin, Urris kept coming.  Urris lifted the tempo further but continual hard work by our two wing banks Oisin Grant and James Doherty worked the ball out to our forwards Shane Mc Clean and Conor Doherty the move was finished off by a goal by Craig Doherty.  The final score Buncrana six goals and eight points to Urris three goals and seven points.  What a difference a week makes, our under fourteens now have two more medals in their back pockets.
Bord na nÓg – Summer Activities
(1) The Club will be hosting a VHI Cúl camp, including football and hurling for boys and girls, from July 11 – July 15.  For Application Forms and information contact Leo Gill 086 086 8260.
(2) The club will host a series of activities for teenagers, including 'Video Analysis of Your Playing Style', a canoe trip and a drumming workshop. Dates are July 5-7.  Contact Sean Noonan 087 923 2988 for information.
(3) A meeting of club underage football coaches will be held in the clubhouse on Wednesday June 22 at 7.00pm
The results of the club's lotto draw which, took place on Tuesday 14th June in O'Flaherty's Bar on the Main Street, are as follows.   The winning numbers drawn for the €10,000 jackpot were 07-10-12-20.
There were no winners.   The winning numbers for the €2,000 Lotto Plus draw were 06-10-23-28.  There were also no winners.   There were five €20 consolation prizes which went to the following participants:
Philip Scott, Slavery;
Fiachra O'Flaherty, ℅ Bar;
Tommy Caldwell, Castle Avenue;
Jean O'Flaherty, ℅ Bar;
Oisin McGee, ℅ Benny.
For the purposes of hygiene and efficiency all players at ALL levels should bring their own water to all training sessions, from seniors down.
Use of the Scarvey pitches for training or matches MUST be confirmed with Martin Mullan in advance (087 246 8108).  Use of clubhouse MUST be confirmed with David McConnell in advance (087 939 2767).
If you do have any items which you think should be included in the club's weekly notes, please email buncrana.pro@gmail.comby 6pm on a Sunday for consideration.
To keep up to date with all the latest goings-on, please join us on www.facebook.com/buncranagaa or www.twitter.com/buncranagaa