A Spitfire fighter plane, which is being excavated form a bog in Inishowen, holds the secret to one of the Second World War's most famous stories.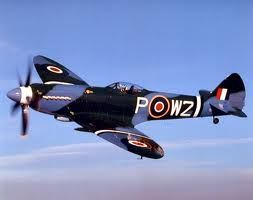 The plane belonged to an American who was later held by the Irish Government for two years after he bailed out of the plane.
The crash-landing provoked a huge diplomatic row between Britain and neutral Ireland at a crucial time in the conflict.
It is believed the pilot was Roland Wolf, known as Bud, but officially he is not being named until later this year.
Before the US joined the war late in 1941, the brave pilot with film-star looks came to Britain and was recruited to fly Spitfires in Northern Ireland. He was based at RAF Eglington, Co Derry.
However a coolant leak got him into trouble over the border in November 1941 but he parachuted out before his plane plunged into a peat bog in the Inishowen peninsula.
After being captured by soldiers with the Irish Defence Force, he was taken to the Curragh detention camp, where he rubbed shoulders with Nazi agents and IRA sympathisers.
After 12 days he escaped and made his way back to his RAF base but the Irish government pressed Prime Minister Winston Churchill for his return and the pilot from Nebraska spent another two years at the Curragh.
While there he rode with the local hunt and earned the nickname Bud by wearing a cowboy outfit. After his release, he went straight back to the RAF and was credited with four direct kills.
Bud later joined the US Army Air Force and flew 887 fighter missions in Korea and Vietnam, achieving the rank of Colonel. He died in 1994.
Part of his Spitfire fuselage has already been unearthed. It was one of 20 funded by ­Canadian millionaire Willard Garfield Weston during the Battle of Britain.
Harry McDermot, 75, was just five when he saw the plane plunge to the ground.
He said: "I thought I saw a man dangling from an umbrella in the sky. I had no idea what a parachute was. The defence force found him pretty quickly and took him off."
As excavations continue at the remote site, it is expected they will be filmed for a BBC series on war relics presented by The One Show's history expert Dan Snow.
Ends
Tags: