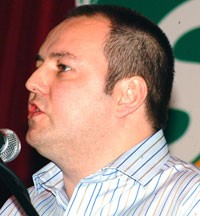 SINN FEIN TD Padraig MacLochlainn was told in the Dáil yesterday that there is still no date for the completion of a new emergency department at Letterkenny General Hospital due to legal issues.
The Donegal North East deputy quizzed junior health minister Róisín Shortall on the issue.
She told the Dáil the delay was a result of the legal complexities of the receivership process surrounding a bust developer.
"The HSE is doing its best to expediate matters," she said.
Work on the €22 million extension to the hospital, which includes a new emergency department and medical assessment unit, started in February 2009.
It was almost complete when the McNamara construction company was put into receivership last November.
Raising the issue in the Dáil, the Donegal North East Sinn Féin TD Pádraig Mac Lochlainn said the project should have been completed by spring this year, "but we now understand from the management of Letterkenny General Hospital that it will not be completed until spring 2012".
He said it was time for the Government to intervene urgently to sort out the mess as staff at the hospital were at breaking point dealing with patients on trolleys, and the problem was spilling over into the hospital's coffee dock.
Ms Shortall said the contract contained an insurance bond and the HSE and its legal advisers were working with the insurer or bondsman to ensure the completion of the development.
"In accordance with the terms of the bond, the insurer is entitled to nominate a contractor who will complete the project to the satisfaction of the HSE," she said.
The executive was waiting for the insurer to do this, she added.
Tags: