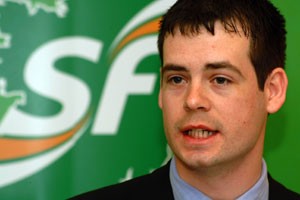 Sinn Fein Finance Spokesperson Pearse Doherty TD will this afternoon seek to introduce a Bill to the Dáil that would dramatically cut payments and salaries to politicians, donegaldaily can reveal.
The Reduction in Pay and Allowances of Government and Oireachtas Members Bill 2011 seeks to impose pay cuts of up to 30% on senior office holders including the Taoiseach and Tánaiste.
The Bill also seeks to abolish outright an additional nine types of payment including allowances for group leaders, whips and committee chairs.
Speaking in advance of introducing the Bill Deputy Doherty told donegaldaily: "There has been a dramatic decline in the disposable income of the vast majority of people in recent years. Unemployment is rising and wages are falling at a time of rising inflation and interest rates hikes.
"Many families are now at breaking point. Against this backdrop the Government is proposing to reduce the pay of more than 300,000 of the state's lowest paid workers through a so-called reform of the JLC system.
"All the while elected politicians, Government members and Oireachtas office holders continue to receive salaries many times above the pay of the majority of workers.
"In the current economic climate there is a need for those of us who are elected to public office to show leadership. If there are sacrifices to be borne then we should be in the front line of making those sacrifices."
The Donegal TD will try to introduce a Bill that would dramatically reduce the gross pay of TDs, Senator's and all political office holders in the Oireachtas.
The Reduction in Pay and Allowances of Government and Oireachtas Members Bill 2011 would cut the Taoiseach's pay by 30%, the Tánaiste's pay by 28%, Ministers' pay by 27% and the Ceann Comhairle's pay by 36%.
In addition the Bill seeks to reduce pay to Ministers of State and other office holders on a scale ranging from 20% to 31% and to cut the basic salary of TDs and Senators by 19% and 9% respectively.
Deputy Doherty went on: "The additional allowances paid to Government ministers and senior Oireachtas office holders are quite frankly outrageous. For example, many people will be shocked to learn that the Ceann Comhairle, in addition to his generous TDs salary, receives an additional €98,745 per year.
"This is three times the average starting pay of a primary school teacher. When the Ceann Comhairle's TD salary is included he earns six times the salary of a primary school teacher.
"There are also a further nine types of payments detailed in the Bill including whips, group leaders and committee chairs. There is simply no justification for these payments to continue and the Bill proposes their abolition.
"Some TDs from both government and opposition parties will argue that Government members and Oireachtas office holders pay has been cut in recent years. Some senior office holders were subject to two cuts under the previous government and an additional voluntary cut from the current government.
"However a TD continues to earn at least three times the average industrial wage while the Taoiseach, even after his 6.6% voluntary salary reduction in April of this year, earns 5.5% of the average.
"Considering the exceptionally high starting point for Irish politicians pay when compared with our EU counterparts the cuts introduced to date are simply not enough.
MORE DETAILS FROM THE BILL ARE BELOW:
Reduction in Pay and Allowances of Government and Oireachtas Members
Bill 2011 – Table of Salary Adjustments
|——————-+—————+——————+——————|
| Position          | Current Pay   | Reduced Pay      | % Reduction      |
|——————-+—————+——————+——————|
| Taoiseach         | 200,000       | 139,872          | 30%              |
|——————-+—————+——————+——————|
| Tainiste          |184,405        | 132,354          | 28%              |
|——————-+—————+——————+——————|
| Minister          |169,275        | 123, 497         | 27%              |
|——————-+—————+——————+——————|
| Minister of State |130,042        | 103,538          | 20%              |
|——————-+—————+——————+——————|
| Ceann Comhairle   |191, 417       | 121, 532         | 36%              |
|——————-+—————+——————+——————|
| Leas-Cheann       |139,266        | 95,772           | 31%              |
| Comhairle         |               |                  |                  |
|——————-+—————+——————+——————|
| Cathoirleach      |137,038        | 94, 333          | 31%              |
|——————-+—————+——————+——————|
| Leas-Cathoirleach |117,101        | 85, 616          | 27%              |
|——————-+—————+——————+——————|
| TD                |92,672         | 75, 064          | 19%              |
|——————-+—————+——————+——————|
| Senator           |65,621         | 59, 978          | 9%               |
|——————-+—————+——————+——————|
| All others        |3,000 – 19,000 | 0,000            | 100%             |
| (leaders, whips,  |               |                  |                  |
| committee chairs, |               |                  |                  |
| see below)        |               |                  |                  |
|——————-+—————+——————+——————|
Note: The above figures include the basic TD salary & the addition
payment for holding the listed office.
Note: An electronic copy of the Bill is available on request.
Note: The nine payments to office holders in the Seanad and Dáil which
the Bill proposes to abolish are: Government whip, Assistant government
whip, Opposition party's whips, Opposition party assistant whips, Leader
of the House, Deputy Leader of the House, Opposition leaders,
Chairpersons of Oireachtas Committees and Commission members.
Tags: