BREAKING NEWS: A father of four died after taking up to a dozen ecstasy tablets at a New Year's Day party.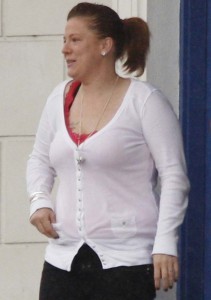 David Orr, 30, took the tablets at a party in Lismonaghan, Letterkenny, on January 1st, 2008.
Orr of Trentamucklagh, St Johnston, was also drinking vodka on the night of the party.
Witness Peter McGinley, a brother-in-law of the dead man, said he saw Orr taking 10 or 11 ecstasy tablets on the night.
After about an hour Orr began to have fits and was rolling around the floor.
"I didn't pay much attention to that because that's the way he always went when he took ecstasy.
"We left him on the sofa then and he seemed to be okay," said McGinley.
However a few hours later other party-goers noticed Orr was not moving and his lips had turned blue.
They rushed him to the local NowDoc service where he was pronounced dead at 8.08am.
Mr Orr's wife Susan (pictured), who was not at the party, had been partying the previous day but denied her husband was addicted to drugs.
Another witness James Mitchell told Letterkenny Coroner's Court he saw Mr Orr taking up to six tablets at one time and a half an hour later be began to talk to himself and then roll around the floor.
Pathologist Dr. Catriona Dillon said the autopsy report showed that Mr Orr had up to five times the level of MNDN (Ecstasy) in his body than the toxic level.
She added that death was due to this and cardiac complications which arose as a result.
The jury agreed with the direction of John Cannon that Mr Orr died as a result of 'due to ecstasy toxicity".
Coroner John Cannon expressed his sympathy but said there were lessons to be learned from the tragedy.
He said it showed the present day easy access to such drugs, the unknown chemicals contained which were "made in back street laboratories and are readily available on the High Street' and the fact that such substances can cause death.
"We can only have sympathy for him. We have heard he went on what was described as a bad trip after taking that horrible drug ecstasy.
"We have heard the tragic circumstances and that he was rolling around full of energy.
"I would like to express my deep sympathy to his wife Susan and their four children. It is simply a very tragic case," he said.
Picture by John McLaughlin
Ends