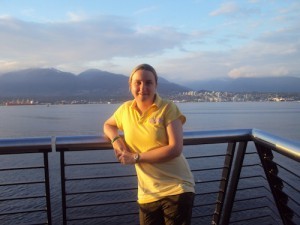 As Donegal's young people continue to flock to foreign shores, donegaldaily.com reporter Marie Duffy presents the third of a series of interviews speaking to those who are creating a new life abroad.
Roisin Greene, 25 from Loughanure, West Donegal is currently living in Vancouver, Canada. A teacher by trade she decided to emigrate after her teaching contract finished up, and she was unable to find full time employment. As an Irish teacher she was obviously unable to find a job in her field in Canada, but she decided that the economic-crisis was a perfect excuse to gain experience living abroad.
"As an Irish teacher there's no chance of getting a permanent job over here, but I just wanted to experience something new and thought now couldn't be a better time", she said.
"Last year I worked in Assumption Grammar School in Co. Down, but it was only a year's contract and at the end of it I was back to square one."
After some research, Roisin decided to emigrate to Vancouver which was voted as the best city to live in, three years in a row.
After almost five months, she is enjoying city life and hopes to extend her work visa.
"I left Ireland on the 24th January 2011 so I'm here almost five months, although the first week doesn't really count because of the jet lag- it's the worst thing."
"My visa is a one year working visa but time is going so quick that I've decided to apply for the second year. Every time I talk to someone from home they tell you "you're missing nothing over here."
Roisin is currently working as a market researcher for an educational company called 'Academy One Learning' which supports students by helping them reach their potential in English and Maths. Her role involves meeting parents and getting their opinions on the Canadian maths and English curriculum. She also gives weekly Irish lessons to students.
"I don't miss the constant talk of recession and how the country is struggling. I haven't heard the words 'credit crunch' since I've come out here. The weather is another thing I don't miss. We've had a wet spring but we're guaranteed good weather for the summer so I can't wait for that."
Although Roisin is enjoying her time in Vancouver there are things that she misses about Ireland.
"Obviously my family and friends are the main thing I miss the most about home. When myself and my friend arrived in Vancouver we didn't know anyone so that was a bit daunting. I miss seeing the familiar faces from home.  I've also missed things like my nieces first day at school which only happens once, and is something I can never recapture."
"I miss some other things that we take for granted at home like the nice open fire on a cold winters night or Match of The Day during the football season. I also miss the team I play for back home Fanad United, the football season has started and it's the first season I've missed since 1999.
"As the proverb goes níl aon tinteán mar do thinteán féin."
Tags: