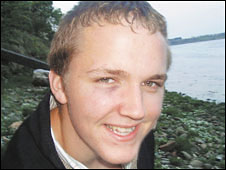 A young woman has revealed how she lost grip of a man's jumper just a split second before he was struck by a speeding rally car.
Richard O'Donnell was killed instantly as he tried to cross a country road during the Donegal International Rally.
An inquest into the 18-year-old's death revealed how he had only jumped over a gate and was on a road for two seconds before being struck by the Fiesta SR rally car which was traveling at speeds of up to 103kph.
The victim was thrown through the air and landed 60 metres away after the tragedy on June 14th, 2008.
Eye-witness Laura Cole had traveled to see the rally with the victim and some other friends.
They found a suitable location in a field in a Ballyare, outside Ramelton on the 11th stage of the rally known as Carnhill.
However after he had watched the first 20 cars dive by, Richard O'Donnell decided he wanted to move to another stage at a different location.
Ms Cole revealed how she followed the victim who jumped over a gate as another friend called to him.
"A marshall blew a whistle and I grabbed Richard by his jumper to stop him going on. But I lost grip on his jumper and I heard another friend Gary shouting at him.
"All I remember was seeing him going up in the air and I fell back in shock. I didn't go near the body," she said.
Chief medical officer at the rally, Dr Pauric Conneally, attended the victim but said he died instantly and pronounced Richard of Jeffrson's Court, Strabane, Co Tyrone dead at 3.30pm.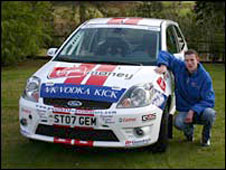 Garda witnesses told Letterkenny Coroner's Court that Welsh rally-driver Elfyn Evans (left) did brake and was slowing down trying to avoid Mr O'Donnell.
The court also heard that there was only a 30 second stop-gap between drivers because of an earlier delay.
Another eye-witness Darren Coyle revealed how people were shouting at the victim to get off the road just seconds before he was hit.
"I saw a young lad climbing over the field and he had a bottle of beer in his hand. I saw him run across the road.
"The crowd was shouting at him to get off the road. He was looking up the road so he would never have seen the rally car coming. There was nothing the drive could have done to avoid him – he ran into his path," he said.
Stage commander of the rally Andrew Frater said he was satisfied that all marshals were experienced and used their whistles to inform spectators that cars were on their way.
The driver of the rally car, Elfyn Evans, said he saw a person on the road and tried to avoid him.
"I saw a 400 metre straight ahead of me and I was in fifth gear. Suddenly a person appeared in front of me and appeared to stagger.
"As he came from the left I went to the right but he kept coming across to me. I was up against a hedge and I couldn't avoid him," he said.
Pathologist Catriona Dillon revealed how the victim had multiple injuries and fractures when she examined him.
However she said the fatal injury was as a result of the brainstem being severed from the spinal chord.
She also revealed that there was also evidence of severe alcohol intoxication in the body.
Dr Dillon concluded that death was as a result of injuries sustained from a road traffic accident.
Coroner John Cannon said it appeared the victim was almost across the road and "on dry land" but turned back for some reason.
The jury found in accordance with the Coroner's direction that death was in accordance with the medical evidence due to a road traffic accident.
They also added a 'rider' asking all spectators of all sports to take extra care and obey all signs and safety regulations at events.
Coroner Canon said "This was a very sad event. Why he decided to cross the road at such a hazardous location we will never know."
A spokesperson for the O'Donnell asked the organisers of car rallies to assist spectators as much as they can.
"Richard was a very keen rally supporter but made a bad decision. There was a very short time between the two cars which was very unusual and we know the car behind was quieter.
"We feel the rally should assist the spectators as best they can. It is very noisy at rally and the cars come too quick and you might make a misjudgement," he said.
Tags: