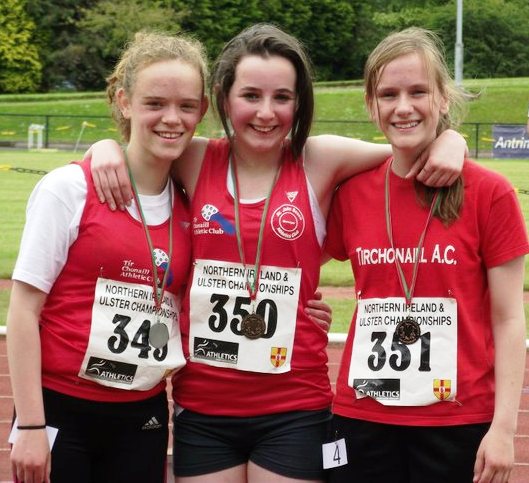 Tír Chonaill Athletics Club Notes
Success in Antrim at Ulster Club c/ships
The Ulster club juvenile track and field championships held at the Antrim Forum, on Saturday – Under 14 and 15 and Sunday – Under 16 and 17 was a most successful experience for a large group of young Tir Chonaill athletes. From the first final on Saturday morning at 10.30am when Kate Mc Gowan skimmed over the 80m hurdles for an impressive victory and time of 11.92secs to the final discipline on Sunday evening at 4.30pm when Karl Griffin, demolished the field in the U17 400m final for an equally impressive victory and very fast time of 50.00 secs. club athletes amassed an unprecedented number of podium places with ten victories,  six 2nd and nine 3rd individual placings.
Day 1
Kate McGowan -U15 –  from Clar near Donegal Town, had a busy day. In addition to winning the hurdles she won her heat of the 200m and in a closely fought  final recorded a time of 26.17secs  for 2nd – three hundredths behind Mc Guckin 26.14secs from Lisburn.  A best of 4.88m was good enough for 3rd in the Long Jump. Ruth Gillespie.Lough Eske, a member of the AVS schools record breaking Irish schools relay team was 3rd in the U15 80m Hurdles. Eva McMullan,U15, from Creevy, Ballyshannon, had a busy and successful day. She qualified via heats for the 100m and 200m finals. In the former she ran 13.40secs for 3rd and 28.32secs for 5th in the later.Niamh McGrory, Ballydevitt,U15, qualified for the 100m final where she finished 8th and later contested the 800m and ran 2mins 54.4 secs. Chloe Masterson,U14, Old Golf Course Rd., has been a member of the club for the last five years. On Saturday, a delighted Chloe, won two Ulster medals – a gold in the Hammer 18.43m, a bronze following a battling performance that found her coming from 5th at the half way stage and also finished 5th in the Shot Putt. Coaching of race walking was introduced to the club at a summer camp in 2010. On Saturday three club athletes battled for and finished 1/2/3 in the Under 15 2k event. Well done Sarah Timoney, Ballintra, Ciara Crawford, Frosses and Jessica Quinn, Frosses.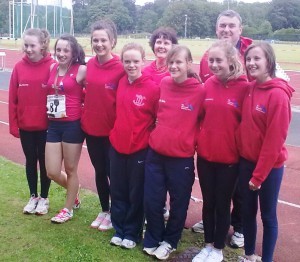 When the recently completed throws cage was finalized at the AVS, the discipline of Hammer throwing, was  introduced to the clubs programme. Matthew McClay, Ballintra,U14, threw 24.34m for a bronze medal performance and followed up with 23.51m in the discus for a similar winning position. Katie Hoad, Frosses,U15, finished 6th in the Hammer,7th in the Discus and 9th in her heat of the 800m.Mark Hegarty,U15, travels three times weekly from Kilybegs to train inn Donegal Town. It was all worth while, when he collected two silver medal medals in the 200m26.65secs and Shot Putt 10.79m. Daniel Gallagher,U15, Dunkineely, burst onto the scene, last March when he won the U14 Irish schools CC in Dublin. He ran the 800m on Saturday -2mins 13.42secs and 1,500m -4mins 30.43secs on Sunday in two very competitive races for 2nd place finished behind All Ireland champion Peter Gibbons from Letterkenny. The most unfortunate club athlete of the weekend was Christopher O'Loughlan,U15, from Mountcharles. In the process of qualifying for the 100m final he injured his leg.Christopher had to withdraw form the final and from his favourite event the 250m Hurdles. Hopefully he makes a quick recovery and will be back at club training very soon.
Day 2
Sunday was reserved for Under 16 and 17 competition. Club athletes continued the success story. The opening track final – U16 80m Hurdles –found mates Kelly McGrory, Laghey, and Emma Brady, Donegal Town, having a great battle with Anna McIlmoyle from Lisburn. Brady shot from the blocks and hurdled perfectly for an impressive win -12.48secs. Kelly edged Anna into 3rd place by one hundredth of a second.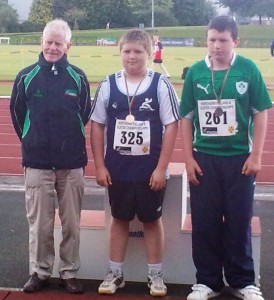 As the day unwound the Tir Chonaill pair set new standards with three emphatic victories. Kelly had to negotiate heats in both the 100m and 200m before recording PB's of 12.79secs/100m and 26.24secs/200m while Emma in the 200m ran 39.14secs for a top podium placing. In the Pole Vault Hannah CampbelL, Inver,U16 and Clare Brady, Donegal Town,U17 won their respective age group competitions.Mark McGuiness, Dunkineely, U17 , ran 4mins 21.74secs for 4th in the 1,500m while Seann Kerrs, Frosses,U17, was 3rd in the 3k/10mins 3427secs. Karl Griffin, during the week, was selected as part of a fourteen member  Irish team for the European Youth Olympics in Turkey, impressed on Saturday in winning the 800m –time 1min 54.76secs and followed upon Sunday with a 50 secs. 400m time victory.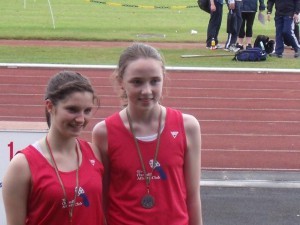 Congratulations to all the young athletes and a sincere thanks to the club coaches who weekly prepare, train and motivate and to the large group of parents who came along to support and help on both days.
Mullaghmore Triathlon
A large number of club members, MSC Tri members and local enthusiasts  made the short journey to Mullaghmore on Sunday last for the popular 'Sprint Tri' and many recorded outstanding performances, P.B's and won numerous catagory prizes. Congratulations to all. Club placings and times  -hour/min/secs
12 Eoin Mc Manus 01:07:22 13 Kieran   Mulligan 01:07:52 19 Peter Jones 01:10:18  23 Brendan Ruane 01:11:29 28 John Treacy 01:12:18 41 Damian Foley 01:13:18 43 Paul Mc Gowan 01:13:19 51 Damien Reid 01.13.58; 52 Ronan Mc Intyre  01:14:12 62 Nial Clancy 01:15:48 70  Ciaran Clancy 01:16:23 73 Alan  Mc Loughlin 01:16:43
81 Noel Hoey 01:17:47 90 Barry Duffy   01:18:33 93  Paul    Mc Devitt 01:18:49
100 Julie Mc Mullin 01:19:19 118 Rory O Neill 01:20:33 120 Terry O Brien 01:20:41 124 Canice Nicholas 01:20:54 128  Diarmaid Keon 01:21:18
135 Amy Spratt 01:21:42 136 Cecilia Mc Guinness    01:21:43 140 Adrian Mc Kinney 01:21:56 170 Malachy Cullen         01:23:30 174 Jane   Mc Devitt 01:23:44
198     James  Mc Intyre 01:25:42 199  Donagh Keon 01:25:42 205 The Shams Meade 01:25:56 220 David Mc Loone    01:26:48  241 Eleanor Rooney       01:28:08
254     Philip  Mc Loone 01:29:13 286 Ann Morrow 01:32:33 287     Helena Kenny 01:32: Alaine Murray 01:52:18 7          Shane O'Donnell            17 Michael Mc Grath 18 Pat Mc Manus 26 Olivia        Murphy 49 Chris Rogers
Mary McLoone at Europa Cup
Mary McLoone, with bests of 5.91m –Long Jump and 12.42m,-Triple Jump helped Ireland retain 1st Division status when the European Nations Cup was held in Turkey last weekend. In all twelve countries participated and the dreaded final two positions were relegated to Division 2 for  2012. Ireland finished 10th with Mc Loone's Long and Triple Jump valuable points being part of the team total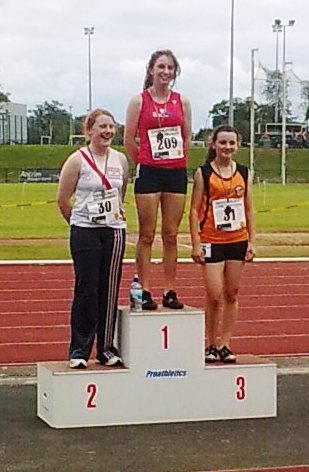 On Ulster team
The following club athletes are part of the Ulster team for next Saturday's Inter Pro in Santry. This competition doubles as a trial for the Irish Under 17 schools International team –Kelly McGrory,100m and 4 x 100m relay; Karl Griffin 800m and 4 x 400m relay, Hannah Campbell and Clare Brady, Pole Vault and Mark McGuiness Steeplechase.
European Youth Olympics
Karl Griffin, becomes the clubs most recent International when on Monday last he was selected for the European U18 Youth Olympics in Turkey. Karl will contest the 800m and will be a member of the relay. This is a great honor for the Ballydevitt lad, for his family, club and local community.
David Wilson
David Wilson, from Cully, in the late 1980's represented Ireland in two World CC  and one European Junior championship. The former club and AVS student went on an athletics scholarship to Illinois State in the USA. Subsequently, he settled in Chicago, where he works and still runs. He is a very welcome visitor at the moment and on Friday night last ran a remarkable time in the Lifford 5k of 15mins 32secs.
Summer Camp
The clubs very popular summer camp will run from Monday 4th July to Fri 8th July. Application forms have been circulated around the primary schools or can be found in Cara Pharmacy Donegal or Bundoran and All Sports Donegal Town. The age groups catered for -5 to 15 with an athletics specific focus for the 13 -15 age groups
Tags: