After a week's break without league action, Finn Harps will be hoping to continue their recent run of good form when they make the trip to Galway to take on Salthill Devon on Saturday evening (kick-off 7.00pm). Harps have picked up six points in their last three games.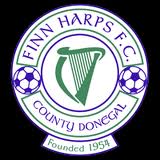 The Donegal outfit will have to make a number of changes to the side which beat Waterford United 1-0 at Finn Park two weeks ago. Packie Mailey is out with a fractured toe, an injury that is likely to see him sidelined for the best part of two months, while Paddy McLaughlin and Aaron McElwee are suspended.
Manager Peter Hutton will have to reshuffle the pack and who will partner Keith Cowan in the centre of defence causing him the most headaches.
Looking back two weeks ago, Harps recorded their second win in a row at home. Having beaten Athlone Town 1-0 with a Kevin McHugh goal, the same player scored again against Waterford to return a victory by the same scoreline.
"We were delighted with the win, particularly in the first half," said Hutton. "I thought we were more than deserving to take a half-time lead. In the second half we didn't really keep the same tempo as the first half and we sort of invited them on to us a bit. The last two minutes was too nervy.
"It's human nature to try and take what's on the board and there was times when we did sit back. Not just the back four but defensively all over the park we fell back, almost trying to consolidate what we have.
"We invited them on and it's something that we'll need to work on, ball retention and things like that. I'm delighted for the players. I spoke to them after and we mentioned the wee bit of luck but I just said that if we continue to work hard that bit of luck will turn in our favour.
"At the start of the season Waterford were one of the title favourites and they have a squad full of seasoned campaigners, they're a highly regarded squad. They are very difficult to manage from set-pieces as we seen near the end with some of their big physical players. I thought we coped quite well with them, though the last five minutes was nerve-wrecking but we got there in the end and I think it's down to the hard work of the players."
Harps didn't let their free weekend go to waste last week, and played two friendlies against Irish league opposition who are preparing for the Europa League qualifiers. On Saturday, Harps played out a 1-1 draw with Glentoran at Finn Park and followed it up with a 4-2 defeat against Cliftonville in Solitude on Tuesday night.
The games saw run-outs for JP Gallagher, Peter Hutton and Stephen O'Donnell – all of whom are set to join the Harps playing squad when the transfer window opens on 1st July.
Harps have only made one visit to Drom in senior football in the past, that coming last season when a Tommy Bonner goal was enough to give Harps a 1-0 victory.
Suspended: Paddy McLaughlin, Aaron McElwee.
Doubtful: None.
Injured: Packie Mailey (fractured toe)
Form Guide (last six league games)
Finn Harps: L-L-L-W-L-W (6 pts)
Salthill Devon: W-D-L-L-L-L (4 pts)
Recent games away to Salthill Devon
21-May-10 – Won 1-0 (First Division)
Finn Harps Goalscorers 2011
Kevin McHugh – 5
Marc Brolly – 2
Gareth Harkin – 1
Finn Harps Results 2011 (Harps goalscorers in brackets)
11th June 2011 – FD – Finn Harps 1-0 Waterford United (McHugh)
6th June 2011 – FAI – Finn Harps 0-1 Longford Town
3rd June 2011 – FAI – Longford Town 0-0 Finn Harps
30th May 2011 – FD – Monaghan United 1-0 Finn Harps
26th May 2011 – FD – Finn Harps 1-0 Athlone Town (McHugh)
20th May 2011 – FD – Limerick 1-0 Finn Harps
13th May 2011 – FD – Mervue United 2-1 Finn Harps (Brolly)
5th May 2011 – FD – Finn Harps 0-1 Wexford Youths
29th April 2011 – FD – Shelbourne 1-0 Finn Harps
22nd April 2011 – FD – Finn Harps 1-2 Longford Town (Brolly)
19th April 2011 – FD – Athlone Town 1-0 Finn Harps
15th April 2011 – FD – Cork City 5-0 Finn Harps
8th April 2011 – FD – Finn Harps 0-0 Salthill Devon
28th March 2011 – EA – Mervue United 1-0 Finn Harps
25th March 2011 – FD – Waterford United 1-0 Finn Harps
18th March 2011 – FD – Finn Harps 2-2 Monaghan United (McHugh 2)
4th March 2011 – FD – Finn Harps 2-2 Limerick (McHugh, Harkin)
Tags: