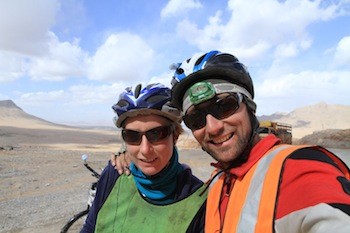 FRIENDS and relatives of a brother and sister who return to Donegal next week after a 12,000 kilometre six month bike ride from India are planning a massive cycling home-coming parade!
Peter Brennan and his sister Keara left New Delhi on Christmas Day 2010.
They will arrive in Donegal Town at 7.30pm. on Tues 28th June having cycled 7,560 miles (12,000km) through  two continents and 19 countries.
Both have strong Donegal Town family connections. On arrival, they will be greeted by the Donegal Town Youth Band and Mayor Tom Conaghan.
Last night Peter & Keara told donegaldaily.com that would very much appreciate if cyclists joined them for the last leg of the journey from Bundoran through Ballyshannon and on to Donegal Town next Tuesday.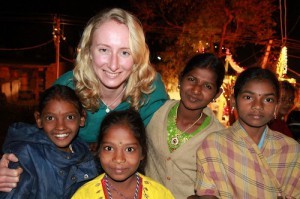 Cyclists can assemble in the Car Park opposite the Allingham Arms Hotel, Bundoran at 5.30pm, opposite Slevins at 6pm, Kees Laghey @7pm. A slide of their epic journey will be shown in the Abbey Hotel @ 8.30pm approx.
And they have an incredible story to tell.
Peter told us: "We've had some scary moments especially going through Pakistan where we had an armed guard 24/7 in case we were kidnapped for a handsome ransom. Orthopaedic delux mattresses were in short supply too.
"Donegal Town is our Mecca, the place we spent many holidays and where we've lots of relatives. Our parents Carmel & Peter Brennan live in Mountcharles, our paternal granny Eileen Brennan lives in Donegal Town as did our maternal grandparents.
"Uncles Paul O' Sullivan and Manus Brennan are well known locally and we'll say nothing about the 1st cousins!."
Keara added: "I had to wear a burka going through Iran and Iraq and cycle in searing heat. When we were stopped by the police or army, they'd totally blank me and asked everything through my brother. Mary Mc Aleese needs to get over there!
"We're both big surfers and cut our teeth in Rossnowlagh many waves ago! That's why we're doing the last leg from Bundoran ( the home of surf) to Donegal Town."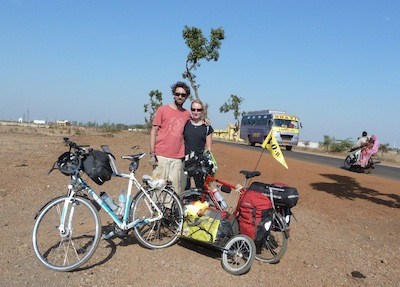 Tags: