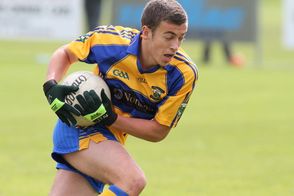 AN upcoming GAA star from Co Derry has confirmed that he has signed for Rangers.
Catholic Aaron McGregor, 17, is a regular with Limavady Wolfhounds GAA club and has just signed a two-year professional contract.
And it seems Rangers are going after more players from Ireland with a GAA background.
For Aaron won't be the only player with a GAA background in the Rangers reserve and Under-19 squads he'll initially be joining.
"Rangers is full of lads who have played Gaelic: there are five in the squad that Aaron's joining, three Dublin fellas and one from Omagh, and three or four of the Rangers scouts had Celtic tattoos on them," said his dad Michael.
"At this level it's all about professionalism.
"The reaction locally has been brilliant, from all sides of the community. We have had so many phone calls wishing him well.
"We had a going away party for Aaron at the weekend and the turnout was mixed right down the middle. Everybody is very proud of him," he said.
Said Aaron: "
"I was delighted when Rangers made an approach, it's an opportunity to make a career as a full-time professional footballer," he said.
"When you see Rangers' facilities and their coaches, it's a fantastic set-up. I'd been on trial with a few other teams — Bradford, Burnley and Aberdeen — but the Rangers set-up was the best.
"Bradford actually put a deal on the table, they offered a contract straight away. I was over three times with Burnley and they were in the process of bringing me over again when Rangers moved in between times. They moved very quickly once they had made their decision."
So the prospect of a GAA-playing Co Derry man scoring against Celtic for Rangers has moved a step closer.
Times have changed.
Tags: