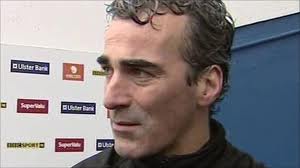 DONEGAL manager Jim McGuinness admitted his overwhelming feeling after an historic victory over Tyrone in the Ulster SFC semi-final at Clones was one of relief.
The county boss said many aspects of the Donegal game which he had been working on throughout the national league campaign and first games in the Championship 'didn't really come off today'.
Said Jim: "There were an awful lot of nerves in the team and an awful lot of unforced error and an enormous lack of composure.
"To be fair I thought Tyrone put on a masterclass in the first half. We just couldn't go with them; the quality of their passing was superb, immense.
"To be brutally honest about it, they should have been out of sight at half time and been eight or nine points up on us at that stage."
However the Donegal manager went on: "One thing that has happened over this season is our lads stick in there and they show good character and they keep coming back even when they are not playing well.
"We managed to kick a few points before the break and that brought it back to within two points and that meant that at half-time we felt we had a decent chance.
"There was a bit of a breeze with us in the second half and that allowed us to get a longer ball up to the full forward line.
"I am just relieved; and I know we have a lot of things we need to work on in the coming weeks."
McGuinness now wants the county board to give the county side a chance of winning the Anglo-Celt in three weeks time by postponing Championship matches due to take place this weekend.
Donegal super sub Dermot Molloy, who only came on with ten minutes to go, explained why he went for a goal instead of a point.
"I remember Jim would always say that if you are one-on-one with the keeper you should go for it, so I went for it," said Dermot.
"That's what I always try to do and today it paid off."
Tyrone: P McConnell, M Swift, J McMahon, R McMenamin, D Harte, C Gormley, P Jordan, K Hughes, S Cavanagh, B Dooher, B McGuigan, P Harte, O Mulligan, M Donnelly, S O'Neill.
Subs: M Penrose for Mulligan (51), T McGuigan for B McGuigan (62), A Cassidy for O'Neill (62), C Cavanagh for Dooher (68)
Donegal: P Durcan, K Lacey, N McGee, P McGrath, F McGlynn, A Thompson, K Cassidy, R Kavanagh, K Rafferty, M McElhinney, M McHugh, R Bradley, P McBrearty, M Murphy, C McFadden.
Subs: M Hegarty for McElhinney (23), L McLoone for Bradley (45), D Molloy for McLoone (62).
Referee: J McQuillan (Cavan).
Tags: