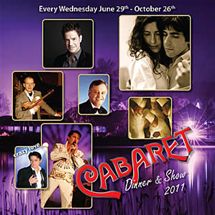 IT is without doubt one of the most spectacular hotels on this island – and Harvey's Point has another sensational season of cabaret lined up for the summer.
Often mimicked, but never equalled, the top Donegal hotel has produced yet another sensational line up.
For outstanding musical entertainment, hearty laughs, culinary excellence and unrivalled hospitality set in the plush surroundings of Harvey's Point 4 Star Hotel then the renowned 'Dinner Cabaret' acclaimed for its extensive variety and classic talent, is one show not to be missed this summer!
This year is a fresh new production and the emphasis is on great entertainment to suit everyone, fabulous food for which Harvey's Point is renowned and warm Donegal hospitality.
The first show of the season is this Wednesday, June 29th, and continues right through until October 26th.
And what a line-up!
Recognised as one of the premier social events in Donegal and the North-West, guests will be enchanted by the finest talents Ireland has to offer, catering for all taste in musical entertainment.
Stars include Gene Fitzpatrick, Liam Murphy, Simon Casey, Matt McGranaghan, Eugene Ginty and special guest Majella O'Donnell.
Sure, where would you get it?
Now in its 11th season, the renowned and long established 'Cabaret Dinner' will begin each Wednesday at 7pm with a gourmet 5 course meal served at 7.30pm sharp, then the hotel's magical lighting will set the tone as the 2 hour show begins at approximately 9.45pm, promising to captivate and entertain the audience.
Each entertainer guarantees a show stopping performance from instrumental at it best, singing at it most spectacular, and comedy at it funniest.
The Harvey's Point Dinner Cabaret is a must in your summer social diary and to experience this melodic evening tickets are now available with extra special packages for overnight stays.
Places can be reserved by calling Harvey's Point on (074) 9722208, e-mail info@harveyspoint.com or Click here http://www.harveyspoint.com – to experience a true sense of Swiss made Irish!
Tags: