A Letterkenny man led Gardai on a pursuit through the town after being spotted holding a bottle of wine while driving.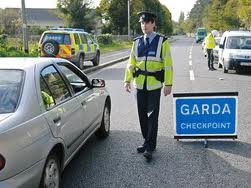 John McDonagh fled from Gardai after being reported to be drinking and driving at Ballyboe on March 5th last.
After being approached by Gardai he fled and drove up through the Long Lane and Glencar areas of the town where he was pursued by Gardai with flashing sirens.
McDonagh, 32, tried to overtake another car in his way and mounted a footpath but crashed into the other car.
The defendant, of 19 Cashel Park, Lisnennan, Letterkenny, drove on down Convent Road in his Volkswagen Passat and forced two pedestrians to jump out of the way.
Gardai again tried to stop McDonagh but he continued to drive towards the Oldtown area of the town before being hemmed in and arrested by Gardai.
Solicitor Kieran Dillon told Letterkenny District Court his client had argued with his partner earlier that day and had decided to go drinking.
He said his client was getting married this year, was very sorry for what had happened and accepted he will be off the road for a long time.
Judge Paul Kelly said the incident was at the upper end of the scale.
"This was an aggrevated incident. He was stopped by Gardai and then tried to escape and evade Gardai over a length of time. God knows what might have happened if he was not trapped.
"He also collided with another vehicle and put a number of pedestrians and Gardai in danger," he said.
Judge Kelly ordered a community service report and said he was considering imposing 200 hours community service for both charges of dangerous driving.