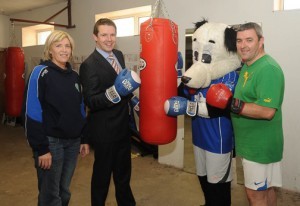 It promises to be an action packed evening  as Finn Harps stage  the "Thrilla in Da Villa" white collar Boxing evening this Saturday in the Villa Rose Hotel 8.30pm.
The gallant boxers who will be stepping into the ring are all Volunteers, most of whom had never laced up gloves before they began a rigorous training regime.
Oisin Kelly of Highland Radio will be MC for the Evening and the brave Competitors have all chosen their own entry Music to herald their arrival into the ring.
In addition to a night of exciting boxing, there will be further entertainment on offer courtesy of the ever popular Mad Marcus .
Event Manager Sharon Scanlon is sure it will be a hugely enjoyable Evening for all those who attend.
"This is the first time an Event like this has taken place in the Twin Towns so we have a put together an Evening full of entertainment and you won't have to be a boxing Fan to have a great time"  said Sharon.
"The boxers have really taken on board the expert coaching they have received in the last six Weeks and have successfully come through a gruelling fitness Regime ",  she said
But what about the rumours that Two Harps Players will be doing battle in the Ring in a most unusual style?
"You should never comment on speculation"  joked Sharon "…My Lips are sealed. You'll just have to come along to find out!
"I am sure there is going to be a great atmosphere and a lot of Fun to be had on Saturday Night so everyone is welcome to come down and be a part of it" she said.
Charlie Ferry of Kavanaghs Supervalu Ballybofey  is looking forward to  the occasion.
"We are delighted  to be associated with the forthcoming Finn Harps Thrilla in Da Villa white Collar Boxing  Night.  I watched the Finn Harps Volunteers training and to be honest I was getting tired just watching them!
Supervalu Ballybofey are committed to working alongside unique Community based initiatives like this and we wish all the Boxers the best of luck on Saturday" he said
Tickets for the Thrilla cost €15 each and can be got from Finn Harps on 91-30070 or The Villa Rose Hotel.
Bouts Below
1. Fionnula (the Blade) Duffy             V                Katriona (tiny dancer) Mc Namee
(Sponsor Marley's Coach Hire)
2. Pauric (coalman) McCrory            V                Rodney (curragh boy) Dullaghan
(- Harkins Gala)                                        (- Gerard McHugh Photog)
3. Shane (dynamite) Elliott
( –CostCutter Ballybofey)            V                Gerard (lightning) Mc Granagan
4. Donal (the bottler) Kelly                   V  Brian (the educator) Mc Crea
(Kelly's Bottling Stores)                                      (Lazy Daze Furniture)
5. Fiona (foxy) Mc Sorley                    V                Margaret (Monster) Kennedy
(McElhinneys Store)
6. Andrew (running man) Scanlon      V               Barney (Yes Geeerrls!)Mc Guigan
(  Donegal County Products LTD)                         (Kernans Eurospar)
7. Kevin (striker) Mc Hugh                  V               Ciaran (baby face) Coll
INTERVAL
8. Damien (hot stepper) Bradley             v    Darren (the dazzler) Mc Nulty
(Farahs Hairdresser/Barber)                         (McNulty Engineering)
9. John (razor) Sweeney                       V                Brian (the councillor) Gallagher
10. Aisling (boom boom) Gallagher     V                TBC
11. Dean (bone crusher) Mc Devitt      V               Brian (lights out) Coll
12. Seamus (spud) Sweeney                  V               Thomas (bang bang) Mc Bride
(Gweedore Furniture/Laura Dolan Hairdresser)
13. Joey (the lips) O Leary                     V              Mark (hurricane) Harvey
(Denise O Neill/Lucia Foley)                               (McGuigans Bar)
14. Paul (Twinkle Toes) Dooley                     V               Joe (the cobra) Mc Cullagh
(B&S Supporters Club)