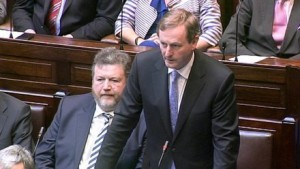 DONEGAL TD Pearse Doherty clashed with Taoiseach Enda Kenny in the Dáil this afternoon as the Government handed over another  €12M to unsecured bondholders today – enough money to pay off hospital deficits and save school bus routes, according to Doherty.
The clash – broadcast live on rte.ie – saw the Gaoth Dobhair man claim that the cost of the of part of the EU/IMF bailout had also risen by 1% since Fine Gael/Labour took office.
In response to a Parliamentary Question by Deputy Doherty the Department of Finance has confirmed that the interest rate on the EFSM portion of the EU/IMF programme loans was 5.425% in January 2011 and 6.425% in June 2011.
Deputy Doherty said: "Week after week the Taoiseach and Minister for Finance tell the Dáil that negotiations seeking a reduction in the interest rate on the EU portion of the EU/IMF bailout loans are ongoing.
"On taking office the Government told us that they would secure a 1% reduction in the interest rate saving the taxpayer up to €450 million a year.
"Having failed to secure this marginal reduction Minister Noonan came into this house only a few weeks ago and admitted that he was no longer looking for a 1% reduction, but a 0.6% reduction and only on future draw downs, slashing the hoped for saving by 65%.
"However it now appears that not only will the government not secure this reduction, but the tax payer will end up paying even more as the interest rats on the EFSM portion of the EU/IMF loans has increased by 1% since the Government came into office."
'SO-CALLED EUROPEAN PARTNERS'
Doherty told the Taoiseach that 'our so called partners in Europe' look set to profit to the tune of €10 billion as a result of the 3% mark up on the interest rate.
He added: "The Minister for Finance needs to stop politely begging for a 0.6% reduction, acknowledge that the Irish people the cost of the recent interest rate rises and start to deal with the real issue, which is why our partners in Europe are profiting from a misfortune which they played a part in creating."
Taoiseach Mr Kenny told the Dáil that there was no detailed discussion of the situation in Ireland at last week's European Council in Brussels.
But Mr Kenny said that the Council had welcomed progress made in Ireland's implementation of the reform programme.
He said he told French President Nicolas Sarkozy of the importance of the rate of Ireland's loan and that the corporation tax rate was not open for change.
The Taoiseach and Mr Doherty were speaking during Statements in the Dáil on the European Council meeting.
Tags: