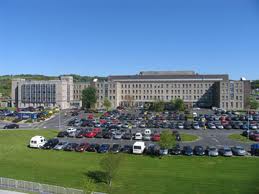 EXCLUSIVE: Operations will be cancelled and clinics will be postponed at Letterkenny General Hospital because of a massive overspend, donegaldaily.com can reveal.
In fact the hospital has been overspending by up to €1million every month – and now Health Minister James Reilly has ordered the hospital management to make cuts to stop the extra spending AND pay off the deficit.
Letterkenny General overspent by €3.6M in the period from January to April this year. Over a year – on those levels – the spend could reach almost €11M.
The hospital receives €94 million in Government funding for 2011.
We have learned that the edict from Minister Reilly is to stop all over-spending immediately.
But he also wants all overspending to be paid off, meaning massive cuts in the second half of this year at Letterkenny General.
Our revelations come just 24 hours after hospital campaigner Betty Holmes received assurances from local TDs and Senators that they would 'stand up' for the hospital.
A senior HSE source told donegaldaily.com: "I read your story (on donegaldaily.com) and whilst I support what Betty is doing, the reality is that we are facing major problems at Letterkenny hospital between now and the end of this year.
"The allocation isn't enough; that's why there has been an overspend.
"The figures for the first four months on a €3.6M overspend is now substantially more, which means that €5M will have to be clawed back from the second half of the year. That's a tough ask."
The source said the reality of the overspend was that patients will have to wait longer for operations and to see consultants.
The source also said the mood in Government circles was 'very tough' on any overspend.
We understand management is reviewing how every cent is spent at the hospital in a bid to make savings which won't have an impact on patients.
Earlier this week Health Minister Dr Reilly made it clear where he stood on overspending.
"There is no cavalry coming over the hill with more money. Hospitals have signed up to a budget and service agreement and it is not for me to tell them how to do it," he said, ruling out a bailout for hospitals.
Tags: