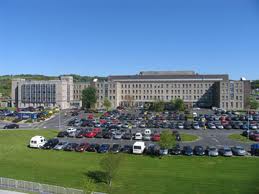 A LACK of junior doctors at Letterkenny General could cause a crisis there within days, the county's two TDs said today.
In a joint statement, Donegal Sinn Féin TDs, Pearse Doherty and Pádraig Mac Lochlainn have appealed to the Minister for Health, James Reilly to urgently intervene and ensure that additional Non Consultant Hospital Doctors (NCHDs or Junior Doctors) are immediately appointed to the county's main hospital.
The Donegal Deputies said that it is their understanding that unless there is an immediate solution, the Accident and Emergency Department may be in danger of downgrading.
Deputy Pearse Doherty said: "I challenged the Taoiseach and Minister for Health in the Dáil to publicly state what are the small rural hospitals that the Minister is referring to when he states that some will not be able to operate safely as a 24 hour A&E service as a result of the shortage of junior doctors.
"The Minister refused to answer my question and indeed the persistent questioning by the Sinn Féin team over the last number of weeks on this issue".
He went on: "It is our understanding that the services of Letterkenny General Hospital will be seriously impacted as a result of the lack of junior doctors and in particular within the A&E Department.
"Unless there is an immediate solution to this problem, the people of Donegal will have to endure a serious curtailment of services across a number of departments with a clear emphasis on A&E.
"The Minister has already signalled that a number of hospitals will not be able to deliver a safe 24 hour accident and emergency service during the summer."
GUARANTEE NEEDED IN DAIL
The TDs said their focus is to ensure that Letterkenny General is not one of the hospitals that he refers to.
Said Padraig MacLochlainn: "We will be raising this yet again today in the Dáil chamber. The Minister must now make a clear statement on this matter which alleviates the concerns of the people of Donegal"
This is the latest controversy surrounding the hospital which has been overspending by up to a quarter of a millon euros every week.
TELL US YOUR VIEW….LEAVE A COMMENT BELOW
Tags: