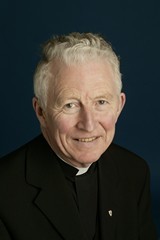 THE Bishop of Raphoe Dr Philip Boyce has joined other senior Catholic clergy in calling for the people of Donegal to support a major pro-Life march in Dublin tomorrow.
The All-Ireland Rally for Life will take place at the Garden of Remembrance in Parnell Park, Dublin.
"Life is our most precious gift," Bishop Philip Boyce of the told organisers, calling the rally a "celebration of life."
"To attend or take part in it in any way is a worthwhile endeavour to pursue as Catholics. We stand up for God's gift of life."
Thousands of pro-lifers gather annually in Dublin or Belfast to voice their opposition to abortion.  Last year's event saw up to 4,000 pro-lifers of all ages descend on Belfast in early July.
As part of a kick-off to the annual march a children's art competition, "Art4Life," was launched earlier this year to promote the pro-life movement to Ireland's youngsters.
Tags: