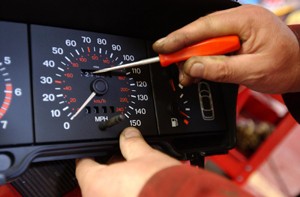 A CAR dealership in the North which exports second hand cars to consumers in Co Donegal has been fined – after 'clocking' vehicles.
Seven Towers Autos in Ballymena, Co Antrim, was fined Stg£400 for breaching consumer laws.
It had offered to sell two cars to undecover BBC journalists – and both vehicles had mileage tampered with.
One vehicle had the clock turned back by an astonishing 100,000 miles.
Today one Donegal man who bought a car from the garage urged other motorists in the county to have their vehicles checked of they bought them from Seven Towers Autos.
"I am having my car checked just in case," said the Letterkenny motorist.
"I think this is a warning to anyone buying a car, or bringing one into the state, that it should be checked out first by a mechanic or the AA," he added.
The firm pleaded guilty to two charges under Consumer Protection from Unfair Trading Regulations 2008 (CPRs).
Moira Todd of the Trading Standards Service in the North said: "All second hand car dealers should take steps to ensure that the mileage on a vehicle is accurate.
"They must not allow a prospective buyer to rely on the mileage indication unless they are absolutely sure it is accurate.
"In this case, the company could have easily established that the mileage readings on these vehicles were incorrect by carrying out simple enquiries.
"Clocking the mileage of a car is downright deceptive and the TSS will take formal prosecution action against any trader who is found to be engaging in this practice."
Anyone from the county who bought a car in the North and who has encountered a problem with car clocking should contact Trading Standards.
More than 11,000 cars have been imported into the Republic from the North and Britain so far this year, says the website www.motorcheck.ie.
Tags: