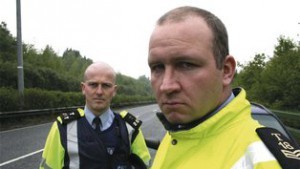 The 6×24 series Traffic Blues returns to our screens tomorrow evening to show us just how dangerous and badly behaved we are on our roads.
Traffic Blues returns to our screens tomorrow at 8.30pm
Filmed over a six month period, the series follows the work of the Garda Traffic Corps as they deal with across Four main divisions – The Dublin Metropolitan division based in Dublin castle, the Kildare division based in Naas, the Cork and the Donegal division with a specific focus on young driver behaviour.
With exclusive access, the show will focus on all sorts of crazy road behaviour, from crashes, speeding and traffic jams to drunk driving, penalty points and fatigue at the wheel. Steve Wall (Super Garden) has done the voice over for the series.
The first episode will air on Sunday July 3rd at 8.30pm on RTÉ 1.
Tags: