Milford, along with 12 other towns nationally, has been chosen out of 100's of entries to take part in a TG4 competition to promote the Irish language.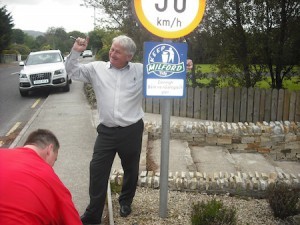 The competition challenges the towns to use their native tongue in their daily routines.
The 10 part series sees the towns compete against each other for the opportunity to call themselves the 'G-Team Winner 2011' and win a €40,000 Foras na Gaeilge prize to use in promoting their local area.
TG4, in association with Adare Productions, are producing this brand new series which will be broadcast on our screens early next year.
The town, therefore, has been busy preparing for the penultimate 'G-Day' on the 22nd of July which will coincide with the Town's 'Window to the Past' Festival and due to this, an excellent sense of community that has enveloped the town.
The Tidy Towns committee have planted new shrubs at the top of the town and are continuing their excellent work throughout the town.
And in an effort to improve the standard of Irish, there are events such as weekly Irish conversational lessons and bi-lingual quizzes that are open to everyone and have proven to be a huge success.
TRIP TO MILFORD
Last week, TG4 made their third trip to Milford to capture some of the preparations taking place in the lead up to G-Day on the 22nd of July.
The first stop of the day was to Lough Fern were the crew were taken out for some early morning fishing and then on to visit the Kearney family who are undertaking the challenge to integrate Irish into their everyday life.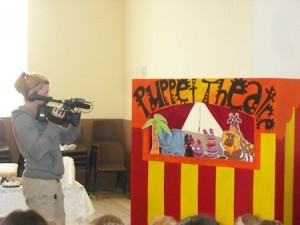 They then visited the local library where a group of 2nd class pupils from Scoil Mhuire, Milford took part in games though Irish and children from the local YMCA put on an Irish puppet show.
Other stops for the cameras were at the erection of the Tidy Towns signage on the approach roads to the town, rehearsals for Paul Smiths upcoming film as well as to Kenneth Bradley's pig farm! Overall the day was a success and we look forward to their next visit in early July.
For more information about these and other events check out Milford's Facebook(Milford Donegal) and Twitter(@Milford_Donegal) for updates and ways to get involved.
Ends
Tags: