This is the sickening scene left behind by thugs after they attacked a religious grotto in West Donegal.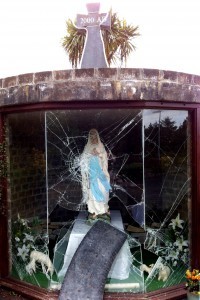 The grotto, which contains a statue of the Blessed Virgin Mary, was smashed up and several pains of glass were broken.
A stone seat stolen from an adjoining ornamental garden was used to ram the glass.
The attack at St.Mary's Church in Derrybeg in Gaoth Dobhair has shocked the local community.
Less than a month ago a similar attack resulted in damage to the grotto which is just a few yards form the local church.
Local Fianna Fail Senator Brian O'Domhnaill said he is disgusted by the incident.
He said locals are baffled as to why the grotto was attacked.
"An attack on any property is bad enough but the fact that it's an attack on a religious grotto is just disgusting.
"All of Derrybeg and indeed the county of Donegal is sickened by what has happened.
"I heard about it in the last few hours and it just baffles me as to why somebody would want to try and destroy a religious statue.
"I would appeal to anybody who knows who is responsible for the attack to inform the Gardai," he said.
A Garda spokesman said the matter is being investigated but no arrests have yet been made.
"The matter has been reported to us and it is being investigated. We would ask anybody who may have any information on the incident to come forward," he said.
Ends
Tags: