A Letterkenny woman was attacked as she tried to take money out of a pass-machine – in broad daylight.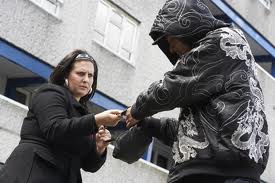 The young woman was attacked from behind by a man who tried to steal her handbag.
However the brave woman managed to hold onto her bag and fought off the cowardly attacker.
When the attacker realised he wasn't getting any money, he verbally abused the woman.
The woman revealed the attack happened in the car park of a local shopping centre on Thursday last at 6.30pm.
She also revealed that but for a local busker, the incident could have been much worse.
The young woman's mother said her daughter is still very shaken by the incident.
"She managed to hold onto her bag. It was a natural reaction but I'd hate to think what could have happened.
"Only for a local busker stepped in, it could have been much worse," she said.
A Garda spokesman said the incident is being investigated.
"We are investigating this incident but we would appeal to people to be careful withdrawing money from cash machines.
"They should always to make sure that nobody is standing too close to them and if they feel they are being watched, they should not use the machine.
"Anybody who may know anything about this particular incident should contact the Gardai," he said.
Ends
Tags: