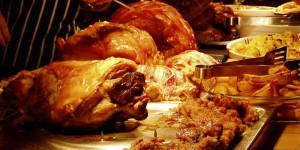 STAFF and management at The Orchard complex in Letterkenny are celebrating – after being named in the Top Ten Greatest Carvery restaurants in the country!
Food giant Unilever Food Solutions he results revealed a shortlist of ten carvery venues split between two distinct categories: the Top 5 pubs shortlisted for '2011 Great Carvery Pub of the Year' and the Top 5 hotels shortlisted for the '2011 Great Carvery Hotel of the Year'.
The Old Orchard Inn will now go through to the Finals after its mouth-watering food and menus stunned the judges.
They were impressed with dishes which included fresh duo of salmon & cod, pesto herb crumb with turmeric cream sauce, oven roasted fillet of chicken with mediterranean vegetables and Homemade prime Irish steak burger in a creamy pepper sauce.
The Orchard and nine other nominated venues will be put through their final paces in several mystery carvery reviews by an expert panel of judges includ- ing George Hook, well-known broad- caster, rugby pundit and self-confessed carvery-lover, Mark Mc- Carthy, Business Development Chef of Unilever Food Solutions and Steve Wynne-Jones, Editor of leading trade magazine, Hospitality Ireland.
Commenting on the Top 10 Great Carvery Champions shortlisted, Mark McCarthy, Business Development Chef at Unilever Food Solutions said: "The response to this year's competition has been phenomenal. The calibre of entries for 2011 has set a new benchmark for the judging panel and everyone is excited about getting out on the road and visiting the venues to find our overall winners in the pub and hotel categories.
"We received hundreds of entries of an exceptional standard from across Ireland. The culinary flair and inventive approach to traditional carvery we've seen is hugely inspiring and I'd like to congratulate all of the ten shortlisted winners – they are very deserving Top 10 Carvery Champions.
"I think the battle to win first place in the pub and hotel category will be keenly fought and I wish all the shortlisted venues the very best of luck!"
CULINARY DELIGHT
Michael Noonan, Head Chef at the The Old Orchard Inn said: "We're thrilled to have been short- listed for the Unilever Food Solutions Great Carvery Awards. It's a fantastic competition and being shortlisted is a huge vote of confidence in our team and the world-class carvery fare we have on offer. At the Old Orchard Inn, we endeavour to cater for all our customers requirements in an efficient and friendly manner.
"It keeps people coming back for more and we're keeping our fingers crossed that we scoop the top prize in July and are named best CarveryPub Venue in Ireland."
The final two overall national win- ners, representing 'The Great Carvery Pub of the Year 2011' and 'The Great Carvery Hotel of the Year 2011' will be announced at a Final Awards event in early July. The winning venues will receive an investment budget to put towards a national marketing campaign to promote their award-winning carvery.
Tags: