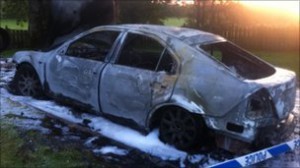 A firebrand MLA accused of sectarianism after backing Donegal in the Ulster Championship so that Tyrone couldn't celebrate has himself been the victim of sectarianism after his car was burned put.
DUP politician Ian McCrea said on twitter he was with Donegal's victory because Mid Ulster taxpayers wouldn't have to fund 'needless' civic ceremonies if Tyrone were to progress to the final and overcome 'Londonderry'.
He tweeted: "Great to see Ulster beat in the Ulster semi's today hope Donegal beat Londonderry in the final to keep the celebrations out of Mid Ulster."
Mr McCrea found the car in flames outside his home early on Sunday morning.
He insisted: "I can only speculate what the reasoning behind this is."
"At this stage there isn't really any evidence to suggest it has been carried out by a specific person or group.
"The story is that someone came and attacked my property and burnt my car," he said.
"My children are the ones frightened to go to sleep at night in case people come back and attack our property again."
He said the car was only yards from his home and a gas cylinder and there was "nothing but the shell left".
Speaking directly after the attack he said: "I expect to be the target of verbal criticism but targeting my family home is outrageous."
The first and deputy first ministers in the Six Counties condemned the arson attack.
"Those who carried out this attack are attempting to heighten tensions as we reach the height of the marching season and this action must be condemned," said Martin McGuinness.
First minister and fellow DUP MLA Peter Robinson "unreservedly" condemned the attack.
"I know those responsible do not speak for their community," he said.
"Regardless of our political views, no one has the right to engage in such criminal and hate-filled behaviour."
Police are treating the fire as suspected arson and have asked anyone who noticed unusual activity in the area to contact them.
Tags: