A young Donegal girl has vowed to beat cancer and keep a date with Westlife star Shane Filan.
But brave Niamh McNulty from Convoy will have to wait for at least a year to make her dream happen –after getting a call for a life-saving transplant.
The 16 year old received a 'good luck' call from the singer on the eve of her operation which takes place this Friday at Crumlin Children's Hopsital.
She has fought a rare form of leukemia for the past five years but now a suitable bone marrow donor has been found in Germany.
Her family threw her a party in the Orchard Inn in Letterkenny to raise her spirits before she had her operation.
All her family and friends came along as did special guests Mickey Joe Harte and Eoghann Quigg.
But Niamh got a very special phonecall on the night from Westlife star Shane.
"Her whole face just lit up. She couldn't believe it when Shane phoned. It was very nice of him to take the time.
"Hopefully when the operation is a success, Niamh will get to meet him and have a good chat with him," said mum Bernie.
Bernie said despite her chemotherapy treatment and watching her hair falling out four times, Niamh has been so brave.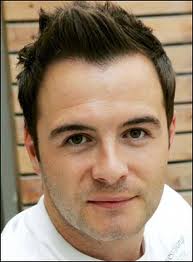 "She has such a great personality. She has been through hell and make and she always tries to have a smile on her face. She is amazing," said Bernie.
Despite her date with Shane, Niamh will have to wait for months after her operation as she can only see immediate family and cannot leave her home.
"The conditions are very strict but we will do whatever we have to so Niamh recovers.
"She can only see immediate family for months after the operation and only eat certain foods.
"Shane will have to wait for his date but it will all be worth it when Niamh pulls through," laughed mum Bernie.
Niamh has kept a diary of her battle with cancer and has always remained upbeat about beating her illness.
Not even the thought of her hair falling out wiped the smile of her face.
"God only made a few perfect heads but the rest he covered in hair," she laughed.
Ends
Tags: