BREAKING NEWS: Donegal manager Jim McGuinness has taken a swipe at the county board in the wake of the horrific injury to star player Leo McLoone.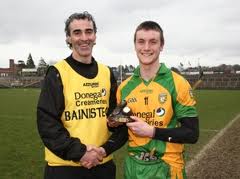 The manager has said the board's failure to postpone club fixtures has indirectly led to the injury which has left McLoone out of the Ulster Final in Clones on June 17th.
The Glenties man had pleaded with the board to put off the games until after the Ulster Final but was over-ruled.
Now in the wake of the brutal brawl between Glenswilly and Naomh Coniall, which resulted in McLoone receiving brutal eye injury, McGuinness has spoken out.
IN his first interview since the brawl McGuinness fumed "That match was a knife edge after a draw. There was potential for something to happen.
"It was well flagged up at the time and it is unfortunate. You want you top players available going into an Ulster final.
"Rory Kavanagh and Kevin Rafferty have also picked up knocks and will not train this week.
"It is not ideal preparation," he said.
McGuinness was at the game which resulted in McLoone suffering a double fracture of an eye socket in the fighting after the championship game.
Reports suggested around 50 people were involved in the fracas which is being investigated by Donegal county officials.
The Donegal County Board has not yet responded to McGuinness' claims.
Ends
Tags: