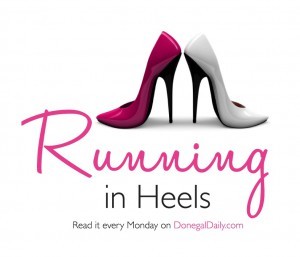 Well now we all know what will be on the Media Box Christmas List this year…convertible heels!
The best of both worlds in one shoe and with the busy, busy, busy week we have ahead these could possibly be the must have office accessory of the year!
It was a manic Monday yesterday so we are only getting to sit down and join all you coffee and tea lovers this fine Tuesday morning for our weekly catch up.
We are gathered at the table, pens at the ready for our morning brainstorm and a preview of what's on the Media Box agenda!
We are really looking forward to the Charity Football Match in Finn Park, Ballybofey this Friday, 8th July that will see Kavanagh's SuperValu meet Highland Radio to go head to head for the title. Kick off at 7.30pm with refreshments and raffle in Jacksons Hotel after the game for all players and supporters. Don't miss out, come along and support your favourite team to win all in aid of the Donegal Hospice.
The first Gallagher's Grab a Grand Winner announced! Congratulations to Michael Loughlin from Leitrim who was the lucky winner pulled from this week's draw. He bought his Gallagher's white sliced pan in Dunnes Stores, Cranmore, Sligo.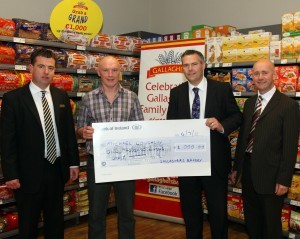 Pictured left: Frank Mc Laughlin (Sales Manager) and Thomas Boyle (Sales Rep) from Gallaghers Bakery presents the first winner of the Gallaghers Bakery, 'Grab a Grand' promotion to Michael Loughlin from Leitrim. Also included is Peter Dolan, Store Manager. Dunnes Stores, Cranmore Sligo.
So all you Gallagher's bread lovers keep checking your white sliced pan because next week – it could be you!
Well done to Kathleen Steyn on her successful interview on the Shaun Doherty Show, Highland Radio last Thursday about her new business Kindred Spirits, Donegal's matchmaking service for the over 50s. The phone has been ringing off the hook this week and Kathleen is delighted with the great response that Kindred Spirits is receiving from the people of Donegal since its launch just two weeks ago.
We hope you enjoyed this week's catch up and keep tuned in to our Facebook page for more news: http://www.facebook.com/mediabox. Its back to the brainstorming for us now as the morning is pressing on.
Until next week…keep running in heels! The Media Box Team x
Tags: