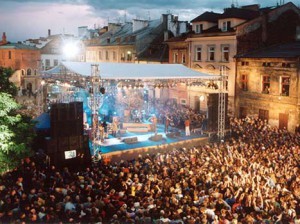 A DONEGAL pharmacist has warned revellers planning to attend music festivals this summer of the dangers they could face.
Pharmacist Rory O'Donnell has warned that normal oral contraception can become ineffective if the person is suffering from vomiting or diarrhoea, ailments which are music festival trademarks.
"We're warning people to plan ahead if they believe there is any chance of an unplanned sexual encounter. Condoms are also essential to protect against sexually transmitted infections."
Mr O'Donnell said there was an increase in requests for the morning after pill after music festivals.
There has also been advice for concert-goers not to disregard their hearing, with their ears being lambasted with decibel levels of 130dB, far in excess of the recommended safe threshold level of 85db.
Dr Nina Byrnes, medical adviser to Hidden Hearing, has called on fans to wear earplugs during Ireland's biggest music event.
"The majority of festival and concert-goers do not understand the damage they may be doing to their hearing and that irreversible hearing loss may occur by listening to loud music, especially if they are exposed to it over a full day or weekend," Dr Byrnes said.