Three men were arrested after the discovery of a multi-million euro oil laundering operation in Castlefin.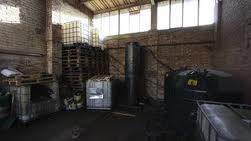 The arrests follow a lengthy undercover operation outside the border village by a gang using cat litter to wash the dodgy diesel.
Customs officers supported by Gardai raided a plant and seized more than 12,000 litres of illegal fuel.
A number of vehicles including a van and a car were also seized by officers.
All three men arrested, who have addresses in Northern Ireland, were taken to Letterkenny Garda station for questioning.
Customs officers say the plant had the capacity to produce more than three million litres of fuel each year with an estimated loss to the exchequer of €1.3 million.
Officers revealed the gang was using cat litter to 'wash' the green diesel and make it appear as regular diesel so it could be sold to garages and on to unsuspecting motorists.
A chemical in the cat litter took away the green colour from the original fuel as it was being 'washed' in several 8ft high containers which were found on site.
Sean Kelleher, Revenue Customs Enforcement Manager for the border region, told Donegaldaily.com the oil was destined for the local market.
"It was not going to travel down south. It was going to travel locally and be used within a 20 to 30 mile radius of where it was being washed," he said.
He estimated that green diesel is being bought for 80c a litre and when washed was being passed on to garages for up to €1.40 a litre.
"That is a lot of profit and you can see the attraction. If people are aware or suspicious that there are such plants in their localtity, they should contact us immediately," he said.
This is the sixth such oil laundering facility uncovered in the State since the beginning of the year compared to just four last year.
"This shows that the market is there for this product and it shows the length people are going to in order to cash in," added Mr Kelleher.
Mr Kelleher also warned that such diesel will cause damage to cars if used on a continuous basis.
"This washed diesel does not contain lubricants and over time it can cause all sorts of harm to engines which is another reason why it is dangerous," he said.
Ends