The former Bishop of Raphoe, Dr Seamus Hegarty, has responded to rumours about his health.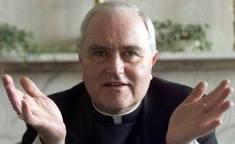 A spokesman for the Dr Hegarty, who is now the Bishop of Derry, said the 70 year old has been to seek medical treatment but is in good form.
Fr Michael Canny, a spokesperson for Bishop Hegarty (71), who is from Kilcar, admitted he was not as sharp as he used to be.
"The Bishop is conscious that he's not as young as he used to be. He's also very aware that his memory is not as sharp or as acute as it was in the past.
"He has been with the doctor and has discussed this with him and nothing has been diagnosed and he's not receiving any treatment."
Fr Canny also denied a diocesan 'committee' had been set up to deal with decision-making because of concerns surrounding Bishop Hegarty's health.
"The only committee that's been set up recently is the St Columb's Diocesan Trust which is to oversee how the diocese complies with new charity legislation and this is the same as what's happening in other dioceses and in churches generally," he said.
There's been little sign in recent times of the Bishop cutting down on his workload.
Over one recent weekend, he attended a function in Moville on the Friday night, drove to an all-day congress in Knock which began on Saturday at 8am, attended an inter-church blessing on the peace bridge on Sunday at 9am, said Mass in St Eugene's Cathedral in Derry at 11am, took part in a Eucharistic procession at 3pm and led the Cemetery Sunday event at 6pm.
Bishop Hegarty, a native of Kilcar in south-west Donegal, was appointed as Bishop of Derry in 1994.
He was previously Bishop of Raphoe and will celebrate thirty years as a bishop next year.
Tags: