The Earagail Arts Festival kicks off with a bang this year as it welcomes one of the biggest stars of Americana music as one of the opening acts of the Donegal festival on July 9.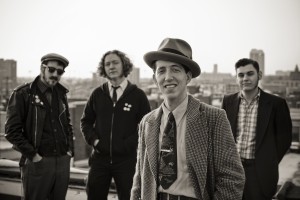 US band Pokey LaFarge & The South City Three have been described as 'tumbled out of an old dusty record player in a black & white Mickey Mouse cartoon' and with their authentic sound and look these Missouri boys are the real deal.
Pokey and his band are currently on their second ever UK tour, which has seen them sell out shows where ever they've been.
Now they are looking forward to coming to Donegal to performing at the festival's Feast Of The Senses in Letterkenny Town Park on July 9 and McGrory's, Culdaff on July 10, the final two dates of the UK & Ireland tour.
Pokey and his band are originally from St Louis and play a creative mix of early jazz, string ragtime, country blues and western swing rings true and fine.
You can look forward to covers such as the folkie tongue-twister Chitlin' Cookin' Time in Cheatham County and lots of new original from Pokey's pen like Pack It Up.
So popular has their sound proven in this part of the world, that Pokey and the band received their very own headline slot at the Celtic Connections Festival in Glasgow.
With a critically acclaimed set at the Newport Folk Festival earlier this year and a high-profile signing to Jack White's label, Third Man Records, Pokey LaFarge & The South City Three are an act you will not want to miss when you get the rare chance of seeing them here in Donegal.
Pokey LaFarge & The South City Three will be part of the festival's very first Feast Of The Senses, a unique night of cabaret and food which should be a magical experience.