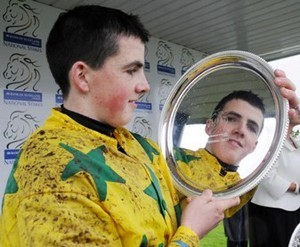 DONEGAL jockey Martin Harley has linked up with soccer star turned trainer Mick Channon!
The 21-year-old is flying high in the British apprentice charts thanks to a new link-up with trainer Channon – a legend of 70s football and a former England star.
As a 17-year-old former pony racer, Harley made the best possible start to his career with a fi rst season total of seven.
Then, in 2008, he rode a winner for legendary gambler Barney Curley, the Ulster Oaks at Down Royal on Angel's Story for his boss Jim Bolger and ended with three magnifi cent victories for his trainer brother Shaun on the patched up nine- year-old Muskatsturm. But as he told me: "I was doing good in Ireland, but I had a few bad injuries.
"I broke two vertebrae in my back and that took me out for nearly a season and the year after I broke a bone on the top of my foot and was out for eight weeks.
"Trying to get back into the game after that was hard," he sighs, "but Mr Bolger was very good to me and I learned a lot there."
Racing was in the family. His father John bought the ponies for him to ride, his brother Sean trains six horses and his uncle Paul was a former jockey.
"It was my uncle who really got me into the game and he encouraged me to apply for the job with Mr Bolger."
The Bolger way would not suit most young men. He hates his staff to smoke or drink and instils a work ethic that would do credit to a boot camp.
But it's produced top notch professionals such as champion trainer Aidan O'Brien, record breaking jump jockey A P McCoy and recent Irish Derby hero Seamie Heffernan.
"I had to write him a letter to ask if it would be all right to see him," Harley smiles.
"But he got back to me saying he would be happy to take me on."
"My father never took a drink and never smoked and I was always trying to follow in his footsteps. So it was easy for me from the word go!
"Everything has to be neat and clean and when you go racing you learnt to dress well and it all comes naturally.
"It's hard work – and I put in plenty of overtime – but if you're second or third there and there's a horse available in a Group One, you ride it.
"I've ridden in a few Classics and Group races. They were all outsiders, but you learn a lot."
Uncle Paul's influence also helped Harley to secure the job with former England footballer Channon.
"He spoke to Kieren Fallon and Kieren put in a good word for me," says Harley proudly.
"I've been in England for five months now and Mr Channon has been very good to me.
"I also ride out for Alan McCabe once a week and he's been a big help too."