The Letterkenny woman who fought for more than 20 years to name her abuser has thanked the Gardai and the social services for believing in her.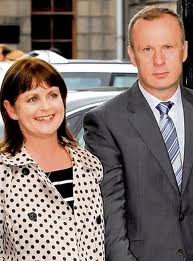 Dana Doherty, 41, yesterday won the right to name openly her former Irish dance teacher, Michael Quigley, who had abused her over a seven year period.
The brave former dance student said that she only ever wanted to tell the truth and for people to hear her.
She said she now hoped her case would protect all other Irish dance students across the country.
Ms Doherty was paid €400,000 in the High Court yesterday.
However her abuser Michael Quigley said he was a retired man and did not have the funds to pay the money.
Ms Doherty's solicitor revealed how Mr Quigley has signed two properties over to his wife's name two years ago.
Through a statement read by her solicitor. Ms Doherty, said she also wanted to thank the two fellow students who gave evidence against Quigley of Barnhill Park, Letterkenny.
Mr Eanna Molloy said "Dana has at last had her voice heard. She is eternally grateful to the two women – two fellow Irish dancers – who came forward and corroborated her evidence.
"They gave evidence too that they had been abused by Michael Quigley.
"These three brave women stood to release the truth. Now the truth has finally come out, Dana's hope is that she can let go of her painful past and look forward to the future.
"She thanks her family, her fellow Irish dancers and medical advisers who put their hearts and soul into seeing justice was secured," h said.
Mr Doherty also paid particular tribute to retired Garda Sgt Sarah Hardigan and social worker Seamus Gordon.
Ends
Tags: