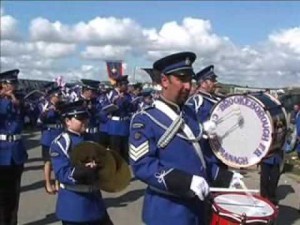 THE leader or the Orange Order today praised the Queen's visit – saying it had helped build relationships on the island and helped Orange members in the Republic to be par of society.
Thousands of members of the Orange Order were in Co Donegal today for their annual July gathering at Rossnowlagh.
Lodges from counties Donegal, Cavan, Leitrim and Monaghan, as well as visiting Orangemen from the Six Counties, were among those taking part in the event.
Grand Master of Grand Orange Lodge in January Edward Stevenson spoke about the British Queen's recent visit to this State.
"I seem to be spending quite a bit of my time in the Irish Republic – and I am thoroughly enjoying it," he said.
"Only a few weeks ago, along with other senior Orangemen, I attended the official visit of her Majesty the Queen to Dublin.
"The visit was a triumph for everyone involved and in particular the people who live here in the Irish Republic and regard themselves as coming from the British culture.
"Thanks to the tremendous and dignified welcome given to her Majesty the Queen, British people can hold their heads high in this community and be proud of their beliefs and their culture.
"And that is what we are doing here today.
"We are in the Irish Republic but we are celebrating our British culture and identity. And we are a threat to no-one. In fact the people here want to play their part in the civic society of this country."
Newspaper reports linking today's parade with a visit by the President turned out not to be correct.
Tags: