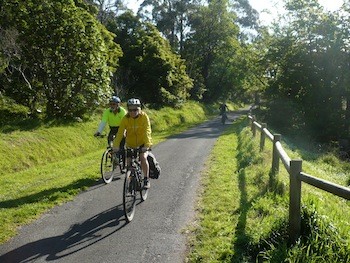 UP to 30 jobs could be created in Donegal after a Government announcement today included a new green travel plan for the county.
A total of €4M will be spent across the country – creating 330 jobs nationally – after the announcement by Public Transport minister Alan Kelly.
The local plan includes the upgrading of footpaths, cycle paths and traffic calming measures in various Donegal locations including Gaoth Dobhair, Buncrana, Ballybofey, Fintown, Glencolmcille, Letterkenny, Milford, Donegal Town, Muff and Ramelton.
Minister Kelly said: "These jobs would not be here without a change of Government.
"Hopefully this will get people off the dole, improve our transport and tourism potential and result in money being spent in our regional high streets. It is not a full solution but will provide some help to our non-urban areas."
He added: "Job creation is a key priority. In the transport area, a key priority is to deliver a sustainable travel future. Today's funding package delivers on these priorities in local communities right around the country."
The €4m allocation is in addition to €10m worth of jobs intensive sustainable travel projects which have already been announced for the Greater Dublin Area and the regional cities.
Tags: