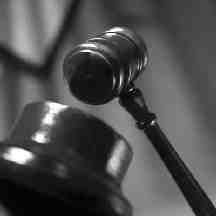 A former Donegal court clerk threatened to kill a man whom he thought was having an affair with his wife.
Ciaran Waldron found his now ex-wife sitting in a car park in Buncrana with another man whom he suspected of having an affair.
Waldron, of 5 Riverview, Buncrana approached the man and his ex-wife Christine O'Kane, as they sat in his car by the seaside in Buncrana on August 7th, 2006.
He approached the man, Anthony McColgan of Burnfoot, and threatened him that he would have him shot if he did not stay away from his children.
Father-of-four Waldron, 53, was later arrested but denied making any threats to Mr McColgan.
Barrister Peter Nolan said his client had been a respected district court clerk who had "jumped the fence" and had studied law for four years in the hope of becoming a solicitor.
He said the threat to Mr McColgan would never have ben carried out.
"He denied he ever intended to kill Mr McColgan but he did intend him to believe what he said.
"There was some argument – there was a threat to kill and he intended him to believe that but he did not plan to carry out," said Mr Nolan.
He added that Waldron, who was charged with threatening to kill or cause serious harm to Mr McColgan, was angry and that "these are the things that people say."
Letterkenny Circuit Court heard that there has been nothing between the two men since.
"It was a fraught and difficult situation. He lost control of what he was saying. He knows his marriage is over and he just wants to get on with his life," he said.
Judge John O'Hagan said there was a lot of water under the bridge since five years ago when the incident happened but said he must punish Waldron.
"He spotted his estranged wife who appeared to be in the company of a man whom he suspected of having an affair with. Blood went on the boil and he decided to confront the situation.
"He was not in a calm manner and was not behaving rationally. There was a lot of emotion an anger," he said.
However he said he looked upon the incident as something that happened in an instant when Waldron was "in a rage and temper."
He fined him €1,000.
ends
Tags: