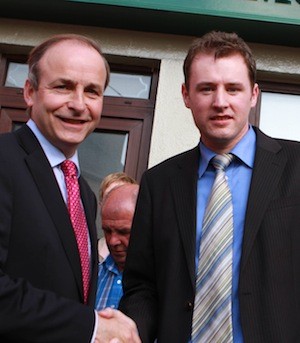 DONEGAL TD Charlie McConalogue has said the effort to cover up the abuse suffered by the victims in the Cloyne Report was appalling.
"The pain and full horror of this abuse of trust will leave people across our country deeply upset and angry," he said.
The Fianna Fail Children's Spokesman was backed today by his party leader Micheal Martin on a visit to the county.
New inquiries into clerical child sex abuse could be launched after a nationwide audit of Catholic dioceses is completed.
The Raphoe Diocese is said to be a 'priority'.
Speaking after the publication of the Report, Deputy McConalogue commented, "There is very little that any politician can say that will add to the testimony of the victims whose experiences are laid out within this report.  What was done to these children was shocking, awful and unforgivable.  The effort to cover up the abuse was appalling.  The pain and full horror of this abuse of trust will leave people across our country deeply upset and angry.
"The terrible clarity of the Report vindicates the decision to establish the Inquiry in the first instance. However, the challenge for politicians from all parties now is to not only ensure that such an intolerable situation can never be allowed to develop again; we must build on the work that has been done and establish a framework to ensure that the voices of victims across our country can be heard.
"The commissions to date have established the scale of these crimes within three dioceses.  They have uncovered sufficient evidence to demand the creation of a nationwide initiative to hear the voices of victims from across the country.
"We look forward to getting further details from Government on the initiatives announced today and will not be found wanting when it comes to enhancing child protection measures.  However, we also believe that it is not sufficient to rely on audits by the Church itself and the HSE to hear the voices of victims.  All of Irish society requires their testimony to be properly heard and understood.  All political parties in the Dáil should work together to find a sustainable and appropriate way to facilitate this. Fianna Fáil will continue to play its part, building on the work that we have done to date."
Deputy McConalogue concluded, "I would like to offer the gratitude of the Fianna Fáil party to Judge Yvonne Murphy, her fellow members of the commission, and particularly to all those who shared their experiences and made this report possible."
Children's Minister Frances Fitzgerald said the Diocese of Cloyne had proven itself to be a "danger to children" by failing to investigate abuse cases.
"You could not rule investigating other dioceses, but at present we're going to put our primary focus on protecting children and ensuring the guidelines are being followed," she said.
Tags: