BREAKING NEWS: Dozens of GAA fans are crying foul after a well-known Letterkenny bus company operator was targeted by vandals.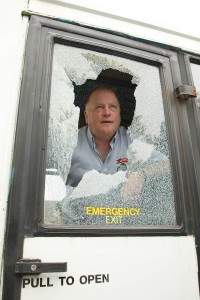 The loyal Donegal fans had planned to travel to Clones this Sunday for the Ulster Final with bus operator Cathal McGettigan.
But Mr McGettigan's fleet of buses have been destroyed after vandals smashed a total of 21 windows on five of his seven vehicles at a cost of €15,000.
The Letterkenny-based businessman, who is originally from Ard O'Donnell,  said he has been left sickened by the attack.
"I have parked my buses at the yard at Long Lane for the past ten years and there has never been a problem.
"When I got to the yard and saw the damage, I was just completely sick. I can't tell you how I felt," he said.
Mr McGettigan said he suspects the attack was premeditated and that a specialist glass breaking hammer was used in the attack.
He said he now has a major headache as dozens of people have already booked tickets to travel on his buses to Clones in Co Monaghan on Sunday.
"I'm trying my best to get the glass replaced but it's easier said than done. I want people to know that I'm trying my best.
"It's tight enough making ends meet with the way things are but for something like this happens just takes the wind out of your sails.
"It's a lot of money and I just hope that the insurance covers it," he said.
A spokesman for Letterkenny Gardai said the matter is being investigated.
"We would appeal to anyone who noticed anybody acting suspiciously in the Long Lane area of Letterkenny in the early hours of Thursday morning to contact us.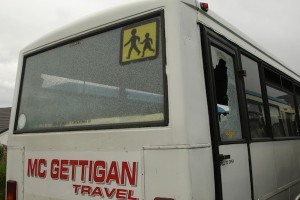 "This was a deliberate attack and has caused considerable distress to the owner," he said.
Ends
Tags: