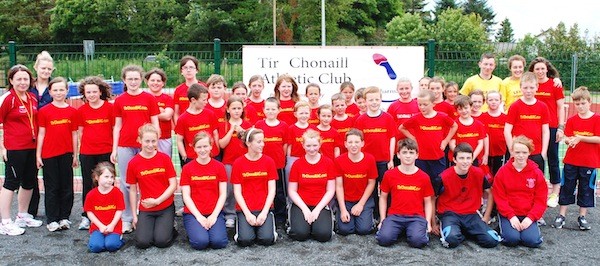 Eighty young athletes enjoyed five days of athletic activity/coaching when the annual Tir Chonaill AC summer camp  was held in the spacious grounds of the Abbey Voc School Donegal Town from Monday 4th to Friday 8th July.
Camp Director Jackie Harvey and club coaches/teachers and club leaders, ensured that the young athletes had an enjoyable and challenging time.
The comprehensive five days programme included coaching and instruction in Art, Dance [Celli and Sean Nos], Gymnastics, trampoleening, Volleyball,Basketball, Badminton,Soccer, Gaelic Football and Tag Rugby skills plus minor games/activities eg unihoc/dodge ball/orienteering/target and board games.
Track and field skills/events were also introduced to the older age groups i.e. Jumps –High/Long/Triple Jump and Pole Vault;Throws Shot/Discus/Javelin/Hammer and Sprints /Hurdles.
The camp culminated with with a visit to the local Bumble bees activity fun arena and a McDonalds Athletics Jamboree.
The club would lie to thank the following for thier invaluable assistance during the week.
Club leaders Sean Kerrs, Christopher Doherty, Mark McGuiness,Kate McCarthy,Barry Quigg,Louise Harvey,Kate McGowan, Kelly McGrory, Emma Brady and Hannah  Quinn. Coaches/teachers – Rena Brogan, Vera Haughey,Brenda Morris,Pauric Harvey,Paul O'Gara,Anne McGowan, Ellen Doherty, Selina Stinson,Sharon Thomas, David Doherty and Mary Doherty.
Also a word of appreciation for  Kate Duncan/O'Rourke and  Bridgeen McCauley/Bell for assistance with group trip to Bumblebees and to Abbey Voc School Principal Mr McCormick, for use of the schools excellent facilities.
Tags: