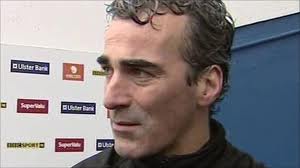 DONEGAL are on their way home tonight with the Anglo-Celt after winning the Ulster Championship against Derry today – with the players praising Donegal manager Jim McGuinness for securing the first Ulster title for the county in 19 years.
Donegal won the game by six points – 1-11 to 0-8.
And tonight the star players were united in their view as to why Donegal did win….manager Jim McGuinness.
The brilliant Colm McFadden – donegaldaily.com's Man of the Match – said: "Jim told us at half-time to go out and work hard for us. We were delighted that we were able to push on in the second half."
Smiling from ear to ear, McFadden beamed: "This means a lot to us. We have had a lot of disappointment and you think you'll never win an Ulster medal and today we got it. I'm delighted. I don't think words can describe how we feel."
Captain fantastic Michael Murphy enthused: "It's an amazing day for all of us. We have worked hard and we have worked hard for Jim and all of the management team."
Mark McHugh said: "This man (Jim) deserves great credit. From January we have done some amount of work. We showed in the second half what we are capable of and we have some way to go yet. We all work off the same hymn sheet and it paid off for us today.
"We had a good defensive structure. The goal came at the right time."
And Michael Hegarty insisted: We wouldn't have done it without Jim McGuiness. We have a bit of a break now and we can re-group and go on."
The Donegal player was also praiseworthy of Derry – and expressed the hope they can also move forward.
"Hopefully Derry will progress because they are a great footballing team," said Hegarty.
The man of the moment – manager Jim – was beaming afterwards.
Jim McGuiness said: "It is phenomenal. The scenes here were superb. I feel privileged to be part of this group. They are very hard working. They deserve to get their Ulster medal and they will have that forever more.
"The players deserve this. Kevin Cassidy was immense today; huge credit to all team.
"It means everything to me to win an Ulster championsip. I always liked playing in the championship and always felt as a player that we didn't win enough. I'm getting a huge kick out of it now as a manager."
The dedication of this Donegal side has been incredible since January.
They have ridden the knocks – and those who would knock them
And tomorrow morning they will be out training on the beach….getting ready for the All-Ireland phase….the whole county will be right behind them.
You can read how it happnened here: www.donegaldaily.com/2011/07/17/ulster-sfc-final-live-text-from-clones-on-donegal-v-derry/
Donegal scorers: M Murphy 1-02 (1-00 pen), C McFadden 0-04 (2f), M Hegarty, A Thompson 0-02 each, R Bradley 0-01.
Derry scorers: J Kielt 0-04 (2f), C Kielt 0-02, C Gilligan (f), M Donaghy 0-01 each.
Donegal: P Durcan, F McGlynn, N McGee, P McGrath, A Thompson, K Lacey, K Cassidy, R Kavanagh, N Gallagher, M McHugh, M Hegarty, R Bradley, P McBrearty, M Murphy, C McFadden.
Subs: M McElhinney for Kavanagh (32), D Molloy for McBrearty (52), D Walsh for Bradley (58), G O'Kane for B McGoldrick (61), PJ McCloskey for Muldoon (61)
Derry: D Devlin, SL McGoldrick, K McGuckin, D McBride, C Mullan, C Kielt, B McGoldrick, J Diver, M Friel, M Lynch, C O'Boyle, M Bateson, E Muldoon, J Kielt, C Gilligan.
Subs: M Donaghy for Bateson (27), K McCloy for Mullan (46), E McGuckin for Gilligan
Referee: M Deegan (Laois).
Tags: