17: 44: Michael Murphy lifts the Ango-Celt…it's coming home to Donegal tonight. It's a play-off date for Derry against Kildare. Murphy named Man of the Match by the sports writers. It was Colm McFadden for us. Thanks to everyone who followed the game with us today. Video and match reports will follow later. We're off for a pint (or three) first!
17:40 START THE PARTY: DONEGAL WIN BY SIX POINTS
17:37 DONEGAL HAVE WON THE ANGLO-CELT CUP AND ARE ULSTER SFC CHAMPIONS
17:34: Man of the Match Colm McFadden scores a superb point after great team play. It's a wonderful point. Donegal 1-11, Derry 0-8.
17: 33 Kielt scores a point. It's Donegal 1-10, Derry 0-8. Three minutes of injury time.
17: 32. Start celebrating folks….just a minute left.
17:30: Donegal fans are celebrating already. Derry need two goals. And Donegal are playing their socks off.
17:27 Donegal are five points to the good; Derry are all over the place. It's looking good for Donegal…..and then Michael Hegarty scores a super point to increase the lead to six points. It's Donegal 1-10, Derry 0-7.
17:26: Controversy as Emmett McGuickan goes down in front of the Donegal goal. Derry fans shout for a penalty. But referee waves play on; but then stops play to allow McGuickan to get treatment. McGuickan gets the smelling salts. Donegal are six minutes away from their first Ulster title in 19 years. Derry's Michael Friel is booked for an off-the-ball incident.
17:24 Derry hit their tenth wide of the game. Donegal are fighting for every ball.
17:21 Captain Michael Murphy scores a superb point after great defending by Donegal. It's Donegal 1-09, Derry 0-07. Donegal have 12 minutes left to hold this lead and win the Anglo-Celt.
17:20: Donegal are hassling Derry at every turn. Derry can't play. Donegal are defending like men possessed.
17:14 Space opening up across the field; and with the wind building up again, it is becoming scrappy. Donegal get a free 30 yards out. Colm McFadden scores. It's Donegal 1-08, Derry 0-7. Donegal have 7 wides; Derry have 9.
17:10: James Kielt scores a superb point after good work from the back by Derry. It's Donegal 1-07, Derry 0-7. 3 points in it.
17:09. Derry's James Kielt scores a point. It's now Donegal 1-07, Derry 0-6. 46 mins gone.
17:08 Michael Hegarty scores after more great work by Murphy. Donegal lead 1-07 to Derry's 0-5.
17:07: Murphy wins the ball again; this time he feeds Colm McFadden who scores to put Donegal four points ahead. It's Donegal 1-06, Derry 0-5.
17:03: There is a fracas off the ball. Donegal's McBrearty is on the ground. He is treated for more than a minute. There is a melee – and referee gives yellow cards to Donegal captain Michael Murphy and Derry's Dermot Mcbride.
17:02 It's Donegal three points ahead Donegal 1-05, Derry 0-5.
17:00 IT'S A PENALTY. Referee – from 50 yards away – says Danny Devlin brought down Michael Murphy and the referee says it's a penalty. It appears the umpire gave it. Murphy steps up to take the penalty and…..SCORES!!!!! TV replays suggest penalty was harsh.
17:00 Enda Muldoon tries a shot from way out on the right but it goes wide. First chance of the second half goes to Derry.
16:58: Players back on the pitch for the second half. Who will win the Ulster title this year? Donegal need to get a grip on midfield. And we're underway….Derry win possession from the throw-in.
16:49 ALL square at half time in front of 20,000 very nervous fans. Everyone heading for the burger vans (bring lots of cash). Donegal were dominating in the early stages and the O'Donnell boys looked good, but Derry have slowly come back into it. The wind is definitely playing its part. It really is any side's game; and Donegal can win the Anglo-Celt if they play like they did in the opening part of the first half.
16:40: HALF TIME AT CLONES: DONEGAL 0-5, DERRY 0-5
Derry scorers: C Kielt 0-2, J Kielt 0-1, Gilligan 0-1, Donaghy 0-1
Donegal scorers: McFadden 0-1, Thompson 0-2, Murphy 0-1, Bradley 0-1
16:39: It's a free for Donegal….but Michael Murphy puts it wide! Incredible. In the build-up Donegal had played on and scored a goal. But it is disallowed as the referee had blown for the free…a free missed by Murphy. IT'S HALF TIME. Donegal haven't scored for 18 minutes.
16:37: Muldoon puts the 45 wide.
16:36: Derry increase pressure. Keeper Durkan makes good save. At the other end McBrearty has a go, but Derry keeper saves. Still all square. Derry have a 45 at the other end. Three minutes of injury time being played.
16:32: Rory Kavanagh goes down in midfield. Treated for his injury. The St Eunan's man has to come off and that is a blow. Martin McElhinney of St Michael's comes on.
16:31 Martin Donaghy scores a point for Derry and the game is all level. Derry have come back into it. Donegal 0-5, Derry 0-5.
16:30: 29th minute. Derry get free and Gilligan (a fitness trainer with Glenties last year) scores a point. Donegal 0-5, Derry 0-4. Just a point in it.
16:27: Charlie Kielt scores a superb point with the outside of his boot. 26 mins gone and it's Donegal 0-5, Derry 0-3. Michael Bateson is taken off and replaced with Donaghy.
16:25: 23 minutes gone and Donegal are confident. Derry are mis-hitting balls all over the park. Donegal hit a wide. Michael Bateson hits Mark McHugh off the ball and get a yellow card.
16:22 Donegal win the ball from the kick-out; McFadden wins the ball and Anthony Thompson points. It's Donegal 0-5, Derry 0-2. Derry seem out of sorts and Donegal are now settling much better.
16:21: Ryan Bradley scores an excellent point to increase Donegal's lead. Donegal 0-4, Derry 0-2.
14:18: McGlynn fouls a Derry forward. James Kielt scores from the free to pull the score back. Donegal 0-3, Derry 0-2. 18mins gone.
16:16: Kavanagh pumps the ball up; McFadden wins the ball and plays off to Donegal captain Michael Murphy who points. It's Donegal 0-3, Derry 0-1.
16:15: Michael Hegarty has a chance to increase the lead but hits the ball wide when he could have scored. Good work by McFadden in the build up. 14 mins gone.
16:13: Donegal win the ball in midfield. Referee misses a push in the back and Anthony Thompson runs through to put Donegal ahead again. Donegal 0-2, Derry 0-1.
16:12: Derry work the ball from the back, but hit the ball well wide. No side has really settled yet. A lot of nerves out there.
16:09: Charlie Kielt levels the game with a long range point which goes over off the post. Donegal 0-1, Derry 0-1. Eight minutes gone.
16:06: McFadden wins a free – and puts Donegal in the lead with a point. There's 4.45 mins gone. Donegal 0-1, Derry 0-0.
16:04 Patrick McBrearty takes a shot from 35 yards. He has the distance; but it's wide.
16:01 And we're underway….Derry win the ball but Diver penalised for overcarrying. Michael Murphy goes forward and shoots….but it's wide. It looks like a point but umpire says 'no'. Derry go up the other end and also hit a wide. This time it really is a wide.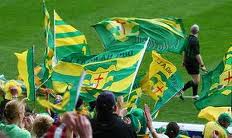 16:00: Gallagher and Kavanagh start in midfield for Donegal. National anthem being played. 20,000 at the game.
15:55: The players are on the pitch and following the band around Clones park. Donegal and Derry flags blowing stiffly in the breeze.
15:48 A good crowd here at Clones as donegaldaily.com starts live coverage of the Ulster Senior Football Championship final between favourites Donegal and our neighbours Derry. It's 19 years since Donegal won the Anglo-Celt and Jim McGuinness's charges have a great chance to bridge that gap today. The conditions are poor, very windy. Wind gusts of around 30mph.
15:00. The drive down was 'windy' – right soft day. Plenty of Green and Gold on the roads across to Co Monaghan today. Nice atmosphere in and around Clones all morning. A lot of talk about the weather.
14:45: Good afternoon and welcome to our live text coverage of Donegal v Derry. Greetings to all of you abroad. We'll bring you every kick from today's match. Throw-in 4pm.
Tags: