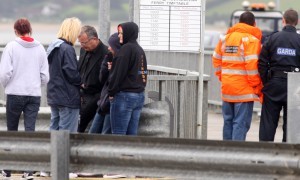 A HOWLING gale is lashing Rathmullan today, hampering the search for missing teenager Sean McNair – the boy who went missing in the early hours of yesterday morning.
The search for the 17-year-old boy in Lough Swilly was called off last night.
He had gone swimming with three friends after an 18th birthday party – his mum and friends have kept a vigil at the pier where Sean was last seen.
Coastguard officer Dara O'Mally Daly said: "There are north west gales blowing in and conditions are quite difficult, the water is pretty choppy and there are showers coming in."
The search for Sean is continuing along the shoreline.
Rathmullan parish priest Father Martin Collum has been comforting Sean's mum Jackie this weekend.
He said: "She's just so shocked, just devastated. The whole community is stunned by this and are all thinking about the family. There is dark cloud hanging over this community."
Prayers were said for the McNair family in all local churches this Sunday morning.
Joe Joyce from Lough Swilly RNLI said the of the incident: "There was an 18th birthday party and I think some of them went for a swim afterwards. But four went into the water and only three came back out."
Tags: